Aug 5th 2022
Things to Know When You Are New to CPAP Therapy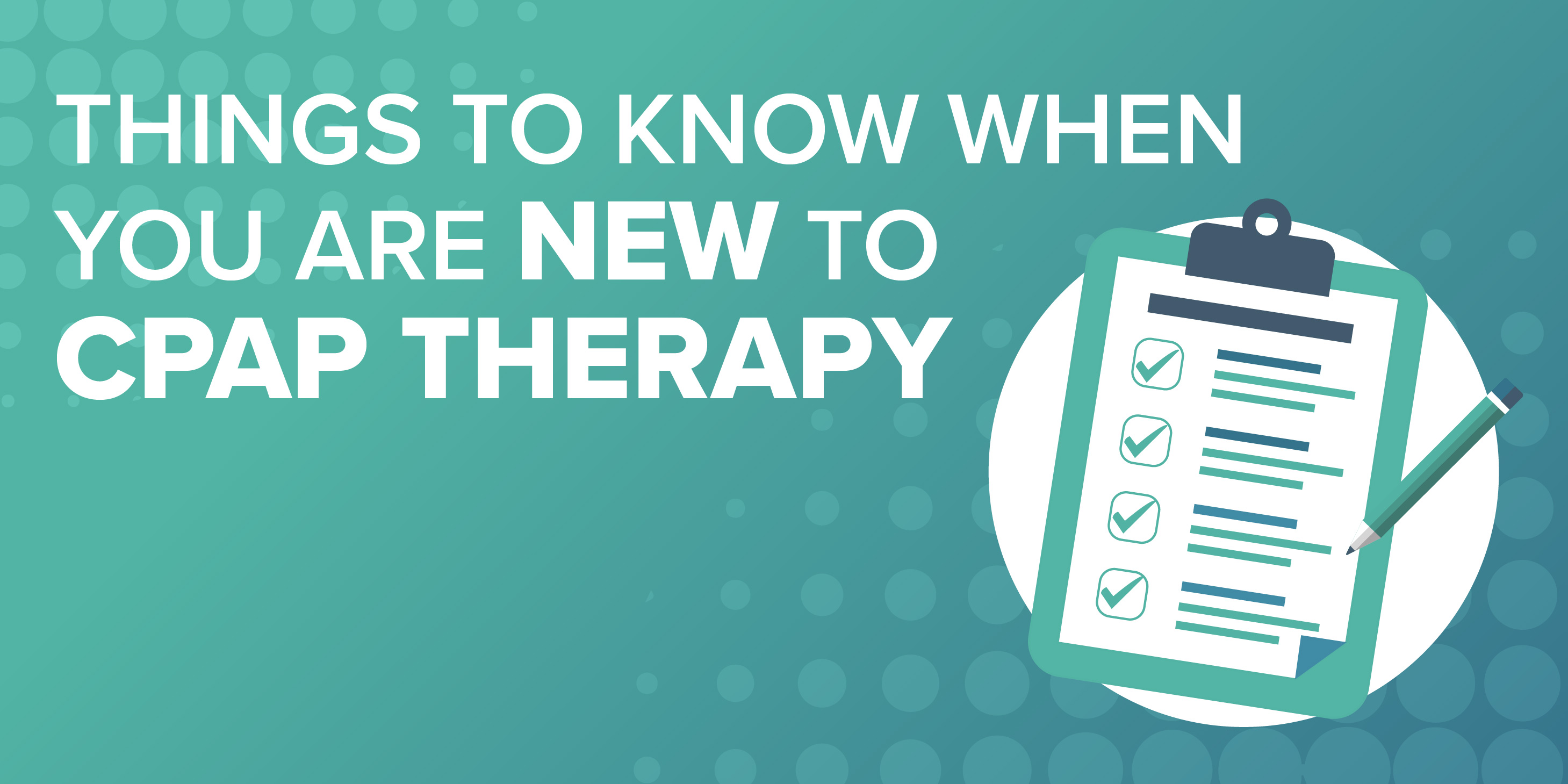 You were just diagnosed with sleep apnea and prescribed CPAP therapy. While your doctor and prescription will give you an excellent start to beginning your CPAP therapy, we will assist you in finding the right mask, adjusting to your new sleeping habits, and staying healthy with a good cleaning routine.
Continuous positive airway pressure (CPAP) treatment options are commonly prescribed for patients who have obstructive sleep apnea (OSA).
Getting Started
Pick out a mask and machine that accommodate your needs
Adjust for your sleep apnea treatment
Adhere to an effective cleaning routine
Find The Mask For You
Your sleep specialist will advise you on whether you need a full face mask or if you can use a nasal mask. Depending on the cause of your sleep apnea, a nasal mask may or may not be an option. Your doctor's prescription will also specify a prescribed air pressure setting for your CPAP treatment. An incorrect pressure setting could potentially harm your health.
Once you know if a nasal mask is or isn't an option, you can explore different options based on your sleeping position: back, side, or stomach. We've accumulated a list of our mask recommendations, full face and nasal, for each sleeping position. We've also marked which masks are best for light or active sleepers.
CPAP Masks for Back Sleepers
Philips Respironics DreamWear Nasal CPAP Mask – When looking for a CPAP mask for back sleeping, you'll want a mask that keeps everything out of your face. That's why Philips Respironics offer their top-of-the-head tubing on their DreamWear Nasal Mask. This tubing positions the CPAP hose out of the way of your face and arms.
Minimalist design
Low profile cushion
Soft tubing frame
Single strap headgear
Unobtrusive sleeping experience
ResMed Quattro FX Full Face Mask – This mask focuses on comfort and flexibility with its spring frame design and Spring Air dual-wall cushion. The frame removes the need for forehead support, while the cushion offers soft and even pressure distribution.
Fewer red marks and irritations
Less obtrusive
Rests on the middle of the nose instead of the nasal bridge
CPAP Masks for Side Sleepers
ResMed AirFit P10 Nasal Cushion CPAP Mask – When you sleep on your side, you want to find a mask that offers a seal that won't be disrupted in a side sleeping position. The AirFit P10 is perfect because it inserts in your nostrils, creating a seal inside your nose instead of outside, and the dual-wall cushion creates an airtight seal. Other benefits include:
Ideal for light sleepers
Quieter than the sound of tree leaves rustling
Minimal design
Unobtrusive headgear
Weighs 1.6 ounces, one of the most lightweight CPAP masks on the market
ResMed AirFit F30 Full Face CPAP Mask – If a nasal mask isn't for you, this ResMed full-face mask provides a minimalistic design compared to other full-face mask designs, which is ideal for side sleepers. It offers a secure fit, tight seal, and undisrupted fit during sleep movements. Other benefits include:
Ideal for active sleepers
Almost silent air dispersion
Eliminates problematic touchpoints
The lightest full-face CPAP mask on the market
CPAP Masks for Stomach Sleepers
ResMed AirFit N30i Nasal CPAP Mask – If you're a stomach sleeper, your best CPAP mask option is a nasal pillow. They are softer on the entire face, which is essential when facing down. This mask's top-of-the-head tube connector also helps to keep the tubing out of your face no matter your sleeping position.
Ideal for active sleepers
360-degree motion
Automatically adjusts to your face
Adjusting to Sleep Therapy
Beginning your CPAP therapy will take some time and persistence. Your first night may feel strange and uncomfortable. But diligence is what ensures successful sleep therapy. It's like adjusting to sleeping in a new room, with a retainer, or with the lights on — it's different and takes time.
But anything that takes time also takes intent. Consider following our suggestions to help you adjust to wearing your new CPAP mask as quickly as possible.
Never Skip a Night
It's essential that you continue wearing your CPAP mask once you begin. This will only make your adjustment period more difficult. The sooner you adjust to wearing your CPAP mask, you will experience sounder sleep and brighter days! So, help yourself out, and form a habit as quickly as possible.
Give Your Mask a Chance
It's safe to say that the first few nights with your CPAP therapy may be a bit difficult. But, we recommend that all our customers try their new masks consistently for about a month. This will help you adjust to sleeping with a CPAP mask, in general, to determine if there are fit issues that could be addressed by purchasing a different mask style.
Still Struggling to Adjust?
Try wearing your mask for an hour or so before bed. This will help your body acclimate to the feeling of wearing a CPAP mask without the pressure of needing to fall asleep.
Clean Your Machine and Mask Regularly
Your CPAP medical equipment must stay clean. If fungus, mold, or bacteria grow in any pieces, your sleep therapy could be ineffective or cause health problems. Every mask has cleaning instructions that should be followed, but below, we will outline the basics CPAP users should follow when cleaning their CPAP equipment.
Daily
Washing your cushion or nasal pillow daily after wearing it removes any oils or bacteria that could transfer to your face the next night. Either wash with soapy water or wipe down with a wet cloth or CPAP wipe. You also need to empty your water chamber daily.
Weekly
Wash all your equipment weekly. This includes all disassembled mask parts, tubing, water chamber, and filter. Soak all mask parts, tubing, and water chamber for about an hour in warm, soapy water. Let these parts air dry out of direct sunlight.
To clean your filter, rinse and let dry. Do not put the filter back into the machine until it is completely dry. If you have disposable filters, do not wash these. Instead, replace them according to their respective lifespan.
Learn More When You're New to CPAP Therapy
Check out our online guide to buying CPAP supplies or to buying a CPAP machine for more guidance on your new CPAP therapy journey! Then, explore other mask options, cleaning tips, and more at our blog!
Shop now for all your CPAP needs.