Aug 12th 2022
Comparing ResMed's AirFit F10 vs. F20 vs. F30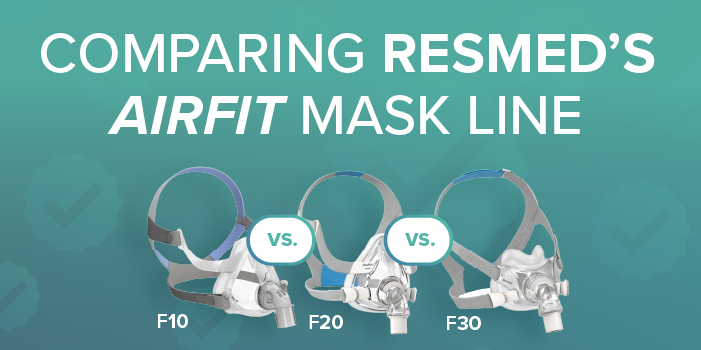 ResMed's AirFit line has been a proven success in the CPAP industry. From nasal, nasal cushion, and full-face masks to accommodations for every type of sleeper, the AirFit series has satisfied every sleep apnea patient and their sleeping partners (no more snoring).
With so many models available within this series, you may find it challenging to narrow down which specific model is suitable for you. So, today we're focusing on the differences between the AirFit F10, F20, and F30.
Exploring the AirFit F10
The AirFit F10 was AirFit's original "F" model. This model has the most cushion sizes out of the three versions, including a unique extra small.
Sizes Include:
Small
Medium
Large
Extra Small
SpringAir Cushion
The original F10 includes the classic dual-wall SpringAir cushion. This cushion is designed to inflate during therapy, creating an adaptable air pocket between the mask and face. Its surface is soft and lightly textured.
Your Choice: Fabric or Silicone?
The AirFit F10 has a soft, clear silicone mask frame that rests gently or hovers over your checks without needing forehead support. If you desire extra comfort, every F10 includes soft fabric sleeves to enhance your comfort levels.
Exploring the AirFit F20
InfinitySeal
The AirFit F20 features the new InfinitySeal cushion instead of the SpringAir cushion that the AirFit F10 had. The InfinitySeal is a full-face cushion that reduces nasal bridge pressure by placing support on the nose's sides. This seal can withstand even the highest sleep therapy air pressure levels while feeling natural on the skin with its frosted surfaces. These cushions come in small, medium, and large.
QuietAir Diffuser Technology
The ResMed AirFit F20 is designed with the QuietAir technology, boasting almost silent air dispersion (the F30 also has this feature). This dispersion creates a quieter sleeping environment for you and your sleep partner. It also eliminates drag and resistance with its 360-degree rotation and features quick-release squeeze tabs for easy detachment.
Cross-Compatible with the AirTouch F20
The AirTouch F20 and AirFit F20 are interchangeable since they have the same flexible frame and headgear system. So, customize the perfect mask for you by choosing the parts of the mask from each model best for you.
F20 For Her
The F20 also comes in a smaller, more petite version for women. Learn more about the AirFit F20 For Her.
Exploring the AirFit F30
The Lightest Full-Face CPAP Mask on the Market
The AirFit F30 mask was updated to include ultra-lightweight materials, making it the lightest full-face mask on the market. Its design is simply minimalistic and a breeze to wear. In addition, the cushion and headgear effortlessly adapt to each user, creating a perfect fit.
An ideal mask for active and side sleepers.
Reduced Red Marks and Pinching
The F30 eliminates unnecessary facial contact, reducing red marks and pinching. In addition, the mask rests below the nose to not touch easily irritable touchpoints, such as the nasal bridge.
Similarities Between The Three Generations
All three generations also share some timeless similarities, such as:
Unrestricted field of vision
Quiet air dispersion
Reduces facial contact
360-degree rotation
Quick-release elbows
AirFit F30 vs. F20 vs. F10
Which is for you? Shop all three here:
Are you still uncertain about which mask you want? Check out some other AirFit designs, including: