Aug 26th 2020
​PRODUCT COMPARISON: Philips Respironics DreamStation Go Auto CPAP with Heated Humidifier vs. Breas HDM Z2 Auto Travel CPAP Machine
PRODUCT COMPARISON: Philips Respironics DreamStation Go Auto CPAP with Heated Humidifier vs. Breas HDM Z2 Auto Travel CPAP Machine
We all know how important it is to comply with your CPAP therapy as this ensures treatment of your sleep apnea symptoms. However, traveling with all of your CPAP equipment may present some challenges. The sad truth is that sleep apnea does not take any holidays. So if you're planning a trip, it is advisable to look for a CPAP machine that is lightweight, portable, and one that is TSA-friendly and FAA-approved.
Today, we'll be comparing two major players in the CPAP world: Philips Respironics (DreamStation Go Auto CPAP with Heated Humidifier) and Breas (HDM Z2 Auto Travel CPAP Machine). Go through the features we have listed down for each CPAP machine and decide which of the two best fits the role of your travel companion.
Philips Respironics DreamStation Go Auto CPAP with Heated Humidifier
TRUE WATER-BASED HUMIDIFIER. The DreamStation Go with Heated Humidifier Bundle offers the DreamStation Go and the Humidifier at a special price that you won't get if you buy both items separately. Many sleep therapy users appreciate the added moisture and humidity provided by heated humidifiers; but most travel CPAP machines don't offer true water-based humidifiers or the solutions offered are too big and bulky.
CONVENIENT AND LIGHTWEIGHT. The DreamStation Go Heated Humidifier weights less than a pound when empty and fits nicely into the Medium Travel Kit made by Respironics. In addition, it can be used with tap water, distilled water or bottled water- making it one of the most convenient, capable humidifiers on the market.
ACCOMMODATES PATIENT MOVEMENT. The 12mm micro-flexible tubing offers its users an added freedom of movement. It is 58% smaller as compared to that of the standard 22mm performance tubing. With this design, you can easily use electronics, read a book, or watch the TV before bedtime.
ADVANCED EVENT DETECTION AND RESPONSE. The DreamStation Go Auto is more capable of adjusting your therapy levels since it features an advanced way of detecting some of the common obstructive sleep apnea events like flow limitation, leaks, snores, respiratory effort related arousal, and more.
BUILT-IN USB PORT. The DreamStation Go Auto features a built-in USB port to make travelling a lot easier. You no longer need two power outlets to plug this in and your phone charger.
(OPTIONAL) INTEGRATED BATTERY. If you spend time camping or off grid, the DreamStation Go's integrated battery is the power solution you need. DreamStation Go's battery snaps onto the CPAP device to create a single integrated unit with an average run time of 13 hours between charges; and you can even plug your phone/tablet into the USB port on the DreamStation Go so it will stay charged up as well.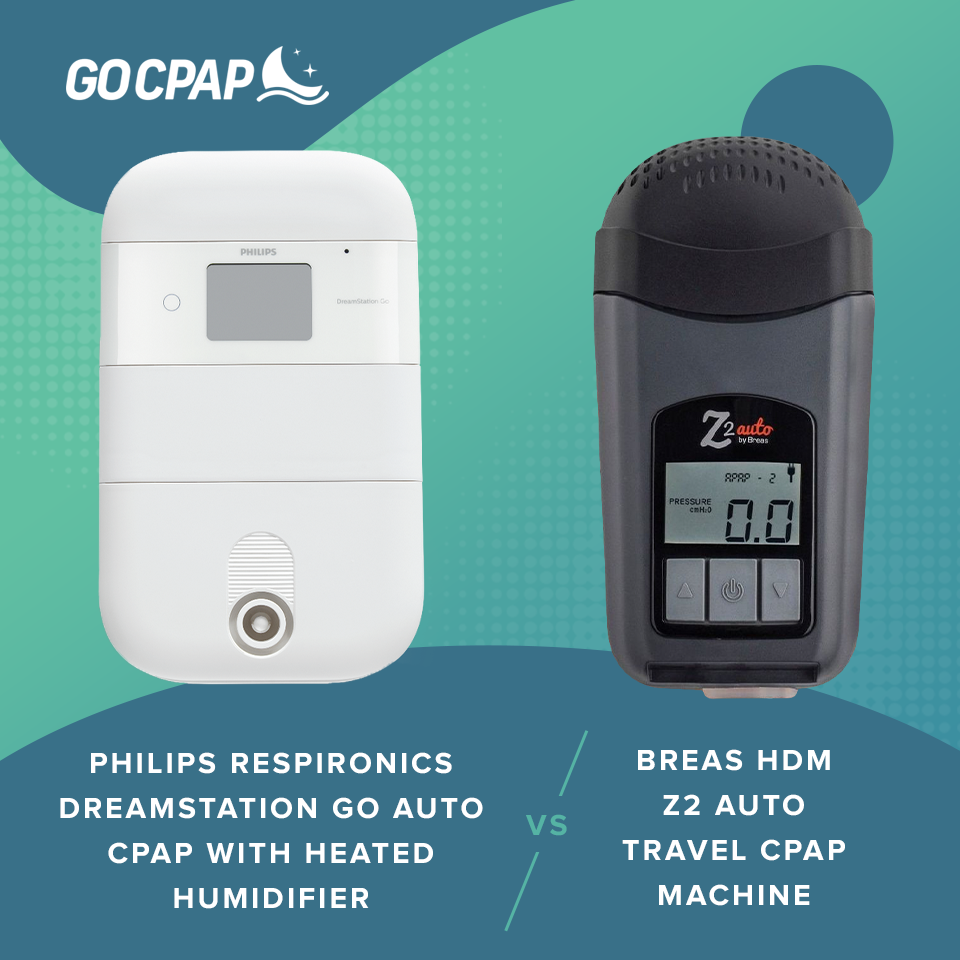 Breas HDM Z2 Auto Travel CPAP Machine
LIGHTWEIGHT FOR TRAVEL. The Z2 Auto CPAP builds on the form of the original Z1 with a more advanced, quieter motor and improved software systems. The Z2 Auto is tiny so it fits easily in your hands and ultra-light at just 10.4 ounces. It is a great everyday machine that is also ideal for travel, packing easily in a carry-on suitcase or even any travel bag.
AUTO-ADJUSTING SLEEP THERAPY. With its proprietary breathing algorithm and a sampling rate of several times per second, the Z2 Auto delivers therapy at a lower overall average pressure than a fixed-pressure CPAP so it's more comfortable, more successful, and easier to use.
Z-BREATHE PRESSURE RELIEF. Z2 Auto delivers a more natural breathing experience with a proprietary feature called Z-Breathe, which smooths therapy pressure by reducing spikes during exhalation and drops in pressure during inhalation to deliver a more comfortable therapy. Z-Breathe has 3 settings so you can set it to suit your personal needs.
WHISPER QUIET. The Z2 Auto has a new quieter motor built for sleep so it is very quiet. It's one of the quietest APAPs on the market, producing only 26 dBA on average of sound during operation.
AUTO START & STOP EASE OF USE. The Z2 Auto comes with an Auto Start / Stop Feature. Simply place your CPAP mask on your face and therapy will start when the device senses you've started to breathe. The Z2 will then stop delivering therapy within seconds of the mask being removed from the face or when a large leak is detected. It's as simple as that!
CLIMB MOUNTAINS & SEE THE WORLD. The Z2 Auto automatically adjusts to altitudes up to 8,000 feet above sea level and complies with FAA for use on aeroplanes. When travelling outside the US, the Z2 Auto will convert the voltage automatically so you can continue enjoying safe and comfortable sleep therapy wherever your next adventure takes you. (Plug adapter may be needed outside of North America.)
OPTIONAL POWERSHELL INTEGRATED BATTERY. For nights away from fixed power, the optional PowerShell with Extended Life Battery Pack provides an innovative, integrated solution, merging the machine and battery in one convenient package. The PowerShell holds one battery that will last 1-2 nights between charges and batteries recharge using the Z2's standard power supply so there are no extra cords to worry about. For extra nights away, just add additional batteries! The PowerShell can also be used as a backup power supply, automatically taking over during a power outage or blackout.
AUTOMATIC LEAK COMPENSATION. To ensure you're always receiving your prescribed sleep therapy pressure, the Z2 Auto automatically compensates for minor mask leaks. If Z2 detects an excessive air leak, that could be detrimental to therapy, its display screen will warn you to ensure that the leak is corrected promptly.
RAMP FOR COMFORT. For people who prefer to fall asleep with therapy at lower pressure levels, the Z2's ramp feature allows you to start your pressure at a lower setting and ramp it up over time to let you adjust more gradually to sleep therapy.
NITELOG; FREE IOS AND ANDROID APP. Do you need to track your sleep therapy progress for your job, your doctor, or just for your peace of mind? Download the Nitelog App from the iTunes Store or Android Store and have all the sleep therapy data from your Z2 available at your fingertips. Nitelog uses the Z2's Auto built-in technology to sync data wirelessly so it is simple to set up and use. It also enables you to share it by email so you can send data to your doctor whenever you need to.
COMPATIBLE WITH ANY CPAP MASK. The Z2 comes with a Universal Tube Adapter and a 48' slim tube. If you prefer longer tubing or performance tubing, it can be used with that too. Your Z2 will work with any mask available on the market so you can choose your favourite and it will be compatible.
Click here to learn more about how to choose the right travel CPAP machine.