Aug 7th 2020
How to Choose a Travel CPAP Machine
How to Choose a Travel CPAP Machine
Are you planning to travel somewhere over the holidays or probably for a family vacation? If you're worried about lugging around your CPAP set up in the air or wherever your destination might be, fret not. While sleep apnea doesn't necessarily take holidays, this does not mean you have to have a hard time bringing it with you.
With a travel CPAP machine, you get a lightweight and portable setup that can help you treat your sleep apnea even during your trips. However, with the endless variety of travel CPAP machines in the market, it can get very overwhelming. Luckily, we have done the dirty work for you and scoured our catalog for some of the best travel CPAPs.
Factors to Consider When Choosing a Travel CPAP Machine
Portability
When choosing a travel CPAP machine, weight and portability are things you should take note of. Whether you're packing or carrying your CPAP equipment, it is best to go as light as possible to avoid further complications.
Power Options
Traveling with a CPAP also includes noting down spare batteries should you need it, knowing whether or not you need to use an adaptor while you're in a foreign country or if it can be plugged in with a car adaptor.
Battery Life
While we're on the topic of power options, travel CPAPs often rely on batteries. These are compact and portable. Be sure to bring extra batteries while you are on your trip.
Pressure Range
When you're traveling, be sure that your machine is adjusted. You can talk to your sleep doctor regarding any travel plans. Moreover, 20 to 30 CWP is already considered to be within the higher pressure setting.
Humidifier
This is commonly neglected by CPAP users who travel. Keep in mind your travel destination. Using a humidifier in a dry climate could prevent nasal irritation. You have to ask yourself if you need a CPAP humidifier for your trip.
Sound
Of course, when you're traveling, you need to consider the noise that the machine makes. Always check the decibel (dB) rating before purchasing a machine. 30 dB is similar to the sound produced by a soft fan.
Top Travel CPAP Machines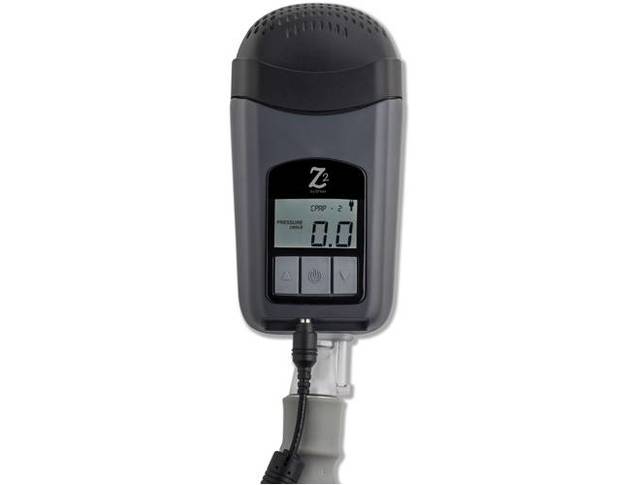 Breas HDM Z2 Standard Travel CPAP Machine
LIGHTWEIGHT FOR TRAVEL. The Z2 Auto CPAP builds on the form of the original Z1 with a more advanced, quieter motor and improved software systems. The Z2 Auto is tiny so it fits easily in your hands and ultra-light at just 10.4 ounces. It is a great everyday machine that is also ideal for travel, packing easily in a carry-on suitcase or even any travel bag.
WHISPER QUIET. The Z2 Auto has a new quieter motor built for sleep so it is very quiet. It's one of the quietest APAPs on the market, producing only 26 dBA on average of sound during operation.
AUTO START & STOP EASE OF USE. The Z2 Auto comes with an Auto Start / Stop Feature. Simply place your CPAP mask on your face and therapy will start when the device senses you've started to breathe. The Z2 will then stop delivering therapy within seconds of the mask being removed from the face or when a large leak is detected. It's as simple as that!
CLIMB MOUNTAINS & SEE THE WORLD. The Z2 Auto automatically adjusts to altitudes up to 8,000 feet above sea level and complies with FAA for use on airplanes. When traveling outside the US, the Z2 Auto will convert the voltage automatically so you can continue enjoying safe and comfortable sleep therapy wherever your next adventure takes you. (Plug adapter may be needed outside of North America.)
OPTIONAL POWERSHELL INTEGRATED BATTERY. For nights away from fixed power, the optional PowerShell with Extended Life Battery Pack provides an innovative, integrated solution, merging the machine and battery in one convenient package. The PowerShell holds one battery that will last 1-2 nights between charges and batteries recharge using the Z2's standard power supply so there are no extra cords to worry about. For extra nights away, just add additional batteries! The PowerShell can also be used as a backup power supply, automatically taking over during a power outage or blackout.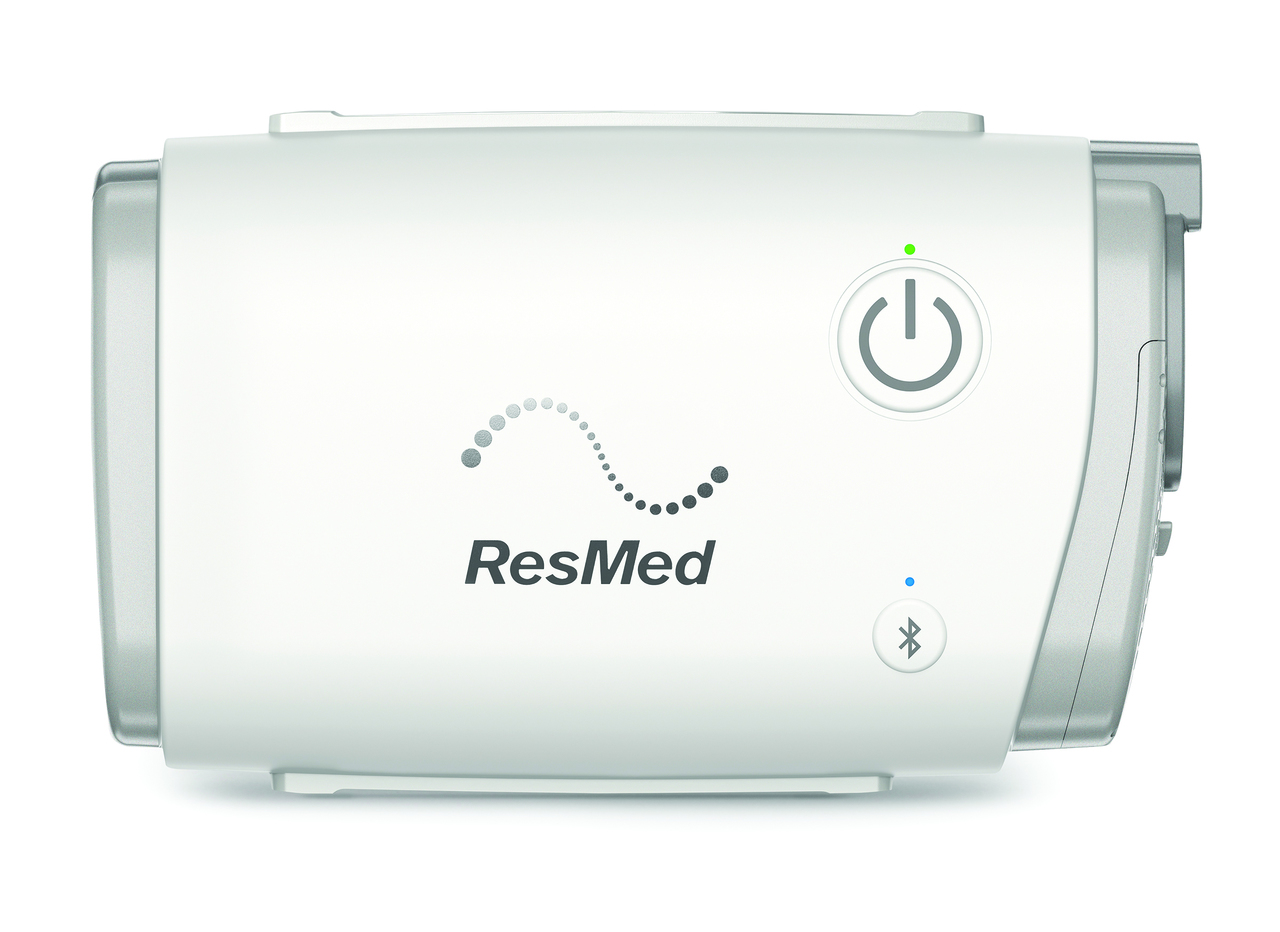 ResMed AirMini AutoSet Travel CPAP Machine
AN ADVANCED SYSTEM FOR HOME & TRAVEL. AirMini is more than just an ultra-portable Auto-CPAP machine, it's a turn-key solution for sleep therapy at home or on the go. AirMini Auto includes ResMed's advanced Autoset and AutoSet For Her breathing algorithms that provide effective therapy at the lowest pressure levels all night long. The AutoSet algorithm monitors your breathing and, when it detects flow limitations, it gently increases pressure until the event has cleared. After an event, AutoSet decreases pressure again to improve overall sleep comfort.
SMARTSTART & AUTO STOP CONVENIENCE. The AirMini's SmartStart function begins your sleep apnea therapy as soon as you breathe into your mask. When you remove your mask, it stops automatically after a few seconds. If you prefer to start and stop therapy on your own, AirMini lets you do that too with just a touch of a button... Really, what could be more simple!
EXPIRATORY PRESSURE RELIEF (EPR). ResMed's EPR (Expiratory Pressure Relief) feature reduces the work of breathing during exhalation providing a gentler pressure that naturally adapts to your breathing cycle throughout the night. EPR can be turned off entirely or you can choose levels from 1 to 3, where 1 is the minimum pressure relief and 3 is the maximum.
AUTO RAMP WITH SLEEP ONSET DETECTION. AirMini's AutoRamp feature with sleep onset detection helps make therapy comfortable from the moment you turn on your device. AutoRamp works by delivering a low pressure to help you fall asleep with ease. Once it detects you're asleep, it comfortably increases the pressure to ensure your prescribed level is delivered the moment you need it. If you prefer to set a specific ramp time for your device or turn ramp off altogether, you can do that too. Comfort settings are easy with the AirMini App.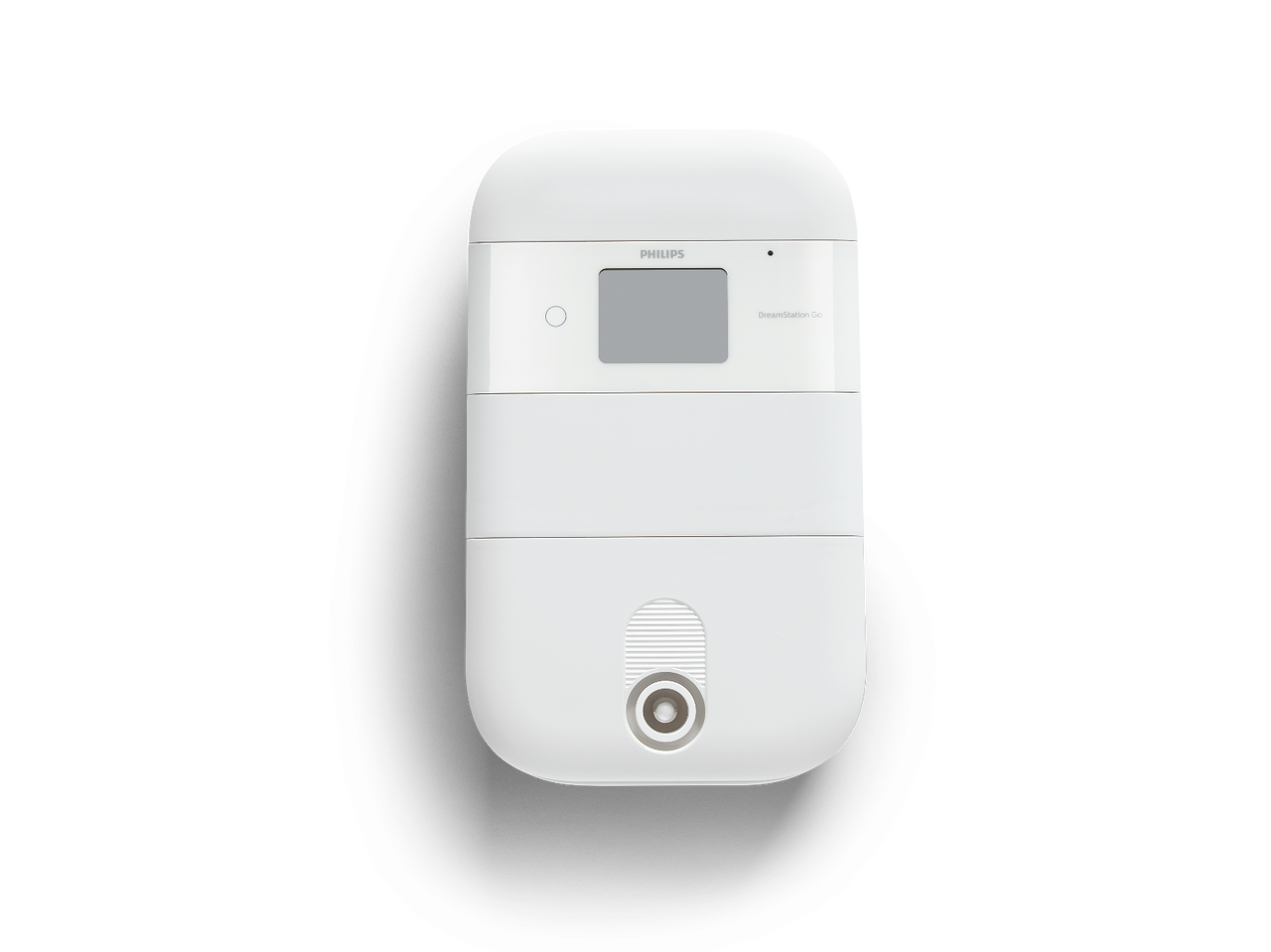 Philips Respironics DreamStation Go Auto CPAP with Heated Humidifier
A-FLEX PRESSURE RELIEF TECHNOLOGY. With the clinically-proven A-flex pressure relief technology, the Philips Respironics DreamStation Go Auto CPAP machine enhances the traditional PAP therapy to provide more comfort to users by delivering the right amount of pressure relief.
ACCOMMODATE PATIENT MOVEMENT. The 12mm micro-flexible tubing offers its users an added freedom of movement. It is 58% smaller as compared to that of the standard 22mm performance tubing. With this design, you can easily use electronics, read a book, or watch the TV before bedtime.
ADVANCED EVENT DETECTION AND RESPONSE. The DreamStation Go Auto is more capable of adjusting your therapy levels since it features an advanced way of detecting some of the common obstructive sleep apnea events like flow limitation, leaks, snores, respiratory effort related arousal, and more.
BUILT-IN USB PORT. The DreamStation Go Auto features a built-in USB port to make traveling a lot easier. You no longer need two power outlets to plug this in and your phone charger.
OPTIONAL INTEGRATED BATTERY FOR TRAVEL. If you spend time camping or off-grid, the DreamStation Go's integrated battery is the power solution you need. DreamStation Go's battery snaps onto the CPAP device to create a single integrated unit with an average run time of 13 hours between charges; and you can even plug your phone/tablet into the USB port on the DreamStation Go so it will stay charged up as well.