Jul 22nd 2022
​ The Best CPAP Cleaners: Features and Reviews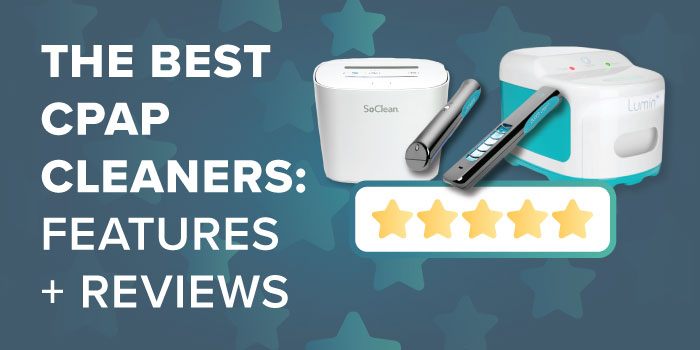 Cleaning your CPAP machine is extremely important for your health and the success of your sleep therapy treatment. Germs and contaminants can grow inside the mask if not cleaned regularly, and dust buildup can cause the machine to malfunction. To ensure your mask lasts as long as intended, it is best to invest in one of the best CPAP cleaners.
Types of CPAP Cleaners
There are a few different types of CPAP cleaners. These include:
Activated Oxygen
This CPAP cleaner breaks down oxygen and adds a third oxygen molecule, creating activated oxygen. Activated oxygen is an oxidant that can then break down germs and bacteria.
Ultraviolet Light
Ultraviolet light has three bands: UV-A, UV-B, and UV-C. These three spectrums enable the light to break molecular bonds, destroying germs and bacteria.
The 3B Medical Lumin Cleaner is an ultraviolet light cleaner killing 99% of harmful bacteria, viruses, molds, and fungus. This cleaner is the most convenient CPAP cleaner on the market, having your equipment cleaned in the quickest manner.
Why It's the Best
5-minute cleaning cycle
It kills 99% of contagions
No replacement parts
Disinfects a variety of items
Reviews
This cleaner is ideal for CPAP users who need a quick and straightforward daily cleaning solution.
It's perfect for anyone looking for a one-time investment with no replacement parts.
The Lumin Cleaner works excellent as a multipurpose disinfector.
The SoClean 3 Cleaner is an activated oxygen cleaner that cleans your mask, headgear, tubing, humidifier, and CPAP accessories without disconnecting your equipment from your CPAP machine. This O3 System Generator kills bacteria, mold, and viruses and by activating ambient oxygen, one of the most potent disinfectants.
Why It's the Best
No water needed
One-time setup
USB Charging Port
Use with the press of a button
5-minute Fresh Air Cycle
Reviews
This automated system is ideal for hassle-free cleaning.
The SoClean is perfect for CPAP users looking for a worry-free and time-saving cleaning routine.
This CPAP cleaning machine is an excellent option for CPAP patients looking for an all-natural and safe cleaning solution.
Unlike the before recommendations, this wand cleaner is a fast, easy, cordless cleaning solution. This CPAP sanitizer uses ultraviolet light to kill common bacteria and viruses.
Why It's the Best
Safely cleans and sanitizes any surface
Includes a one-year warranty
Cordless with 5-hour battery life
Built-in proximity sensor
Reviews
This sanitizing machine is perfect for anyone who travels frequently. Take this wand with you on the go!
This lab-tested cleaning wand is ideal for users looking for a multipurpose cleaner.
This wand is perfect for a sleep apnea patient looking for a safe and preventative cleaner. The wand's proximity sensor ensures that it will automatically shut off if lifted from the surface being sanitized.
Purchase the Best CPAP Cleaner
GoCPAP.com sells numerous CPAP cleaning solutions. So, if you are still looking for more cleaning options, read our other blogs on CPAP cleaners: