Jan 10th 2022
SoClean CPAP Cleaner Reviews and Features
The SoClean CPAP cleaner is a sanitizing device that makes cleaning your CPAP equipment easy. SoClean is a chemical-free device that uses activated oxygen (a powerful, natural sanitizing agent) to clean and disinfect without water or harsh, smelly chemicals. Regularly cleaning your equipment, especially during cold and flu season, is an essential part of your CPAP therapy.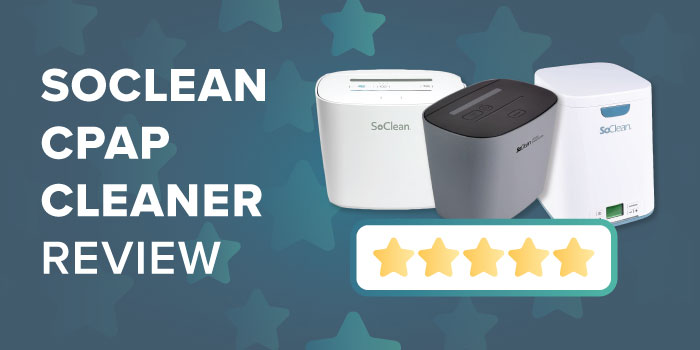 Currently, there are three versions of the SoClean device on the market: SoClean Device Disinfector, SoClean 2 CPAP Cleaner, and SoClean 3 Automatic CPAP Cleaner Sanitizer. This article will explain the features and provide reviews for each device so you can make an informed choice on your next purchase.
Facts about the SoClean CPAP Cleaners
Since all three devices are different versions of the SoClean device, they have similar features. Included below are the benefits you'll enjoy from any SoClean item you purchase.
Kills 99.9% of viruses and bacteria on your equipment
Activated Oxygen Disinfection (O3)
Advanced Air Purification (A3)
Reaches surfaces where UV light can't reach
Water isn't needed for the cleaning process
SoClean Device Disinfector
The SoClean device disinfector arrives ready with no assembly required and is quick to use. All you need to do is place the item inside the device, press the button, and the status will turn green.
Main Features
Quick-change filter
Indicator icons on the device
USB charging port
2-year warranty
Optional Accessories: SoClean Device Disinfector Organizer
Reviews
Ideal for CPAP users who want to avoid harsh chemicals and smells
Works excellent for users who want a simple, easy-to-use machine with no complicated features.
Anyone looking for a multi-use product, SoClean can also be used to clean your smartphone and other daily items!
SoClean 2 CPAP & Mask Cleaner
The SoClean 2 CPAP Cleaner allows you to clean your equipment with one device. The sanitizing cycle takes two hours to complete.
To use, you'll place the items in the cleaning chamber and make sure the hose is in the correct location. Then when you close the lid, the cleaning automatically begins. An indicator light will let you know once it's complete.
Additionally, when you purchase your item from GoCPAP.com, you will receive your adapter of choice at a discounted price (usually $25 separately).
Main Features
Cleans your CPAP mask, headgear, tubing, and humidifier chambers
Compatible with many CPAP masks, headgear, tubing, and machines
Includes a special tubing to clean your heated humidifier
Automation and manual cleaning options are available.
Reviews
This one-in-all product is a great option for anyone looking to keep the cleaning process simple!
This product is ideal for anyone looking to change CPAP machine brands since SoClean 2 is compatible with most CPAP devices.
It is perfect for all CPAP users using a heating humidifier since it can clean ClimateLine, ThermoSmart, and SystemOne Heated Tubing!
SoClean 3 Automatic CPAP Cleaner Sanitizer
The SoClean 3 automatic sanitizer has two cleaning cycles available, a fast 5-minute fresh air cycle and a longer maintenance cycle that thoroughly sanitizes the equipment. To use, place the equipment inside the chamber, close the lid, and press start.
Receive a free adapter when you purchase your SoClean 3 from GoCPAP.com!
Main Features
Reviews
If you're limited on storage space in your bedroom, this compact-designed device is an excellent option!
The SoClean 3 is designed with large illuminated buttons with an easy-to-read LED screen for any CPAP patient who has difficulty seeing small instructions.
If you're looking for a no-hassle product, this spring-loaded lid is designed to open automatically AND stay open while you add your equipment.
Keep Your CPAP Equipment Clean and Safe for You
At GoCPAP.com, we only sell high-quality CPAP cleaning products, machines, and supplies to ensure an effective and healthy treatment.
Shop here for your equipment needs.