Jul 29th 2022
The Best CPAP Cleaner for ResMed AirSense 10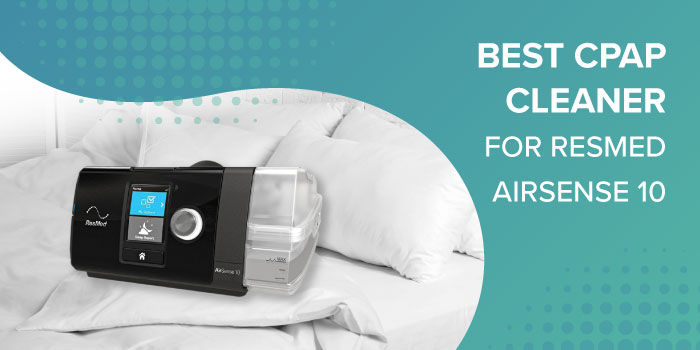 Keeping your Resmed AirSense 10 CPAP machine clean is essential for effective and healthy sleep apnea therapy. You want to avoid bacteria, fungus, or mold growing inside your CPAP machine. To prevent this, investing in a quality, long-lasting, and effective CPAP cleaner is best. Here is our suggestion for the best CPAP cleaner for ResMed AirSense 10.
The best CPAP cleaner for ResMed AirSense 10 is the 3B Medical Lumin CPAP Cleaner. It is effortless and makes CPAP therapy so much more convenient.
The 3B Medical Lumin Cleaner is one of the most convenient CPAP cleaners on the market, having a 5-minute cleaning cycle. It kills 99% of contagions — harmful viruses, molds, fungus, germs, and bacteria — with its UV light system. This cleaner can also disinfect a variety of items outside of CPAP equipment! Invest in the 3B Medical Lumin Cleaner for a quick daily cleaning solution.
Benefits of Investing in the 3B Medical Lumin
Saves time
Worry free
All natural
Chemical free
One-time investment
No replacement parts
Multipurpose UV sanitization
How to Manually Clean Your AirSense 10
If you do not choose to invest in a CPAP cleaner, it is crucial to follow a strict cleaning process and schedule.
A routine for cleaning your CPAP machine is essential to maintain good health and cleanliness. After all, you don't want to be breathing in dirty air at night. To prevent that, be sure to clean your AirSense 10 daily.
Disassemble
Remove your water chamber, filter, tubing, and mask.
Wipe Down
With a damp cloth, clean the outside of your machine and inside the filter door and water chamber.
Clean Air Outlet
Check the air outlet for dust or mold. Remove the air outlet and clean the seal if it is visibly dirty. Always clean the seal inside the water chamber.
Clean With Warm Water
Use warm water and unscented, mild soap to clean all the removed CPAP accessories — mask tubing, chamber, elbow, and mask cushion and frame. Submerge the items in the solution, clean well, rinse, and let air dry. It is critical not to use a paper towel or rag for drying as they can leave debris behind that you could breathe in.
Weekly Water Chamber Cleaning
Additionally, you should clean your water chamber weekly, letting it soak for 20 minutes in a one-part vinegar and one-part water solution. Then, let the chamber air dry. You should also replace your water chamber every six months.
Adhere to Regular Maintenance of Your AirSense 10
Filter: You should change your filter every 2 - 4 weeks.
Humidifier: You should wipe down your humidifier daily and thoroughly clean it biweekly.
Tubing: You should clean your tubing regularly, preferably daily.
Mask: Wipe down your mask daily and regularly clean, following your specific mask's cleaning guidelines.
Explore More Cleaning Options
If you are still looking for more cleaning options for your AirSense 10, check out some more of our cleaning recommendations. Investing in a CPAP cleaner will give you the peace of mind to know that your CPAP equipment is cleaned.