Oct 31st 2020
Product Spotlight: Breas HDM Z2 Auto Travel CPAP Machine
Product Spotlight: Breas HDM Z2 Auto Travel CPAP Machine
LIGHTWEIGHT FOR TRAVEL. The Z2 Auto CPAP builds on the form of the original Z1 with a more advanced, quieter motor and improved software systems. The Z2 Auto is tiny so it fits easily in your hands and ultra-light at just 10.4 ounces. It is a great everyday machine that is also ideal for travel, packing easily in a carry-on suitcase or even any travel bag.
AUTO-ADJUSTING SLEEP THERAPY. With its proprietary breathing algorithm and a sampling rate of several times per second, the Z2 Auto delivers therapy at a lower overall average pressure than a fixed-pressure CPAP so it's more comfortable, more successful, and easier to use.
Z-BREATHE PRESSURE RELIEF. Z2 Auto delivers a more natural breathing experience with a proprietary feature called Z-Breathe, which smooths therapy pressure by reducing spikes during exhalation and drops in pressure during inhalation to deliver a more comfortable therapy. Z-Breathe has 3 settings so you can set it to suit your personal needs.
WHISPER QUIET. The Z2 Auto has a new quieter motor built for sleep so it is very quiet. It's one of the quietest APAPs on the market, producing only 26 dBA on average of sound during operation.
AUTO START & STOP EASE OF USE. The Z2 Auto comes with an Auto Start / Stop Feature. Simply place your CPAP mask on your face and therapy will start when the device senses you've started to breathe. The Z2 will then stop delivering therapy within seconds of the mask being removed from the face or when a large leak is detected. It's as simple as that!
The Z2 Auto automatically adjusts to altitudes up to 8,000 feet above sea level and complies with FAA for use on airplanes. When traveling outside the US, the Z2 Auto will convert the voltage automatically so you can continue enjoying safe and comfortable sleep therapy wherever your next adventure takes you. (Plug adapter may be needed outside of North America.)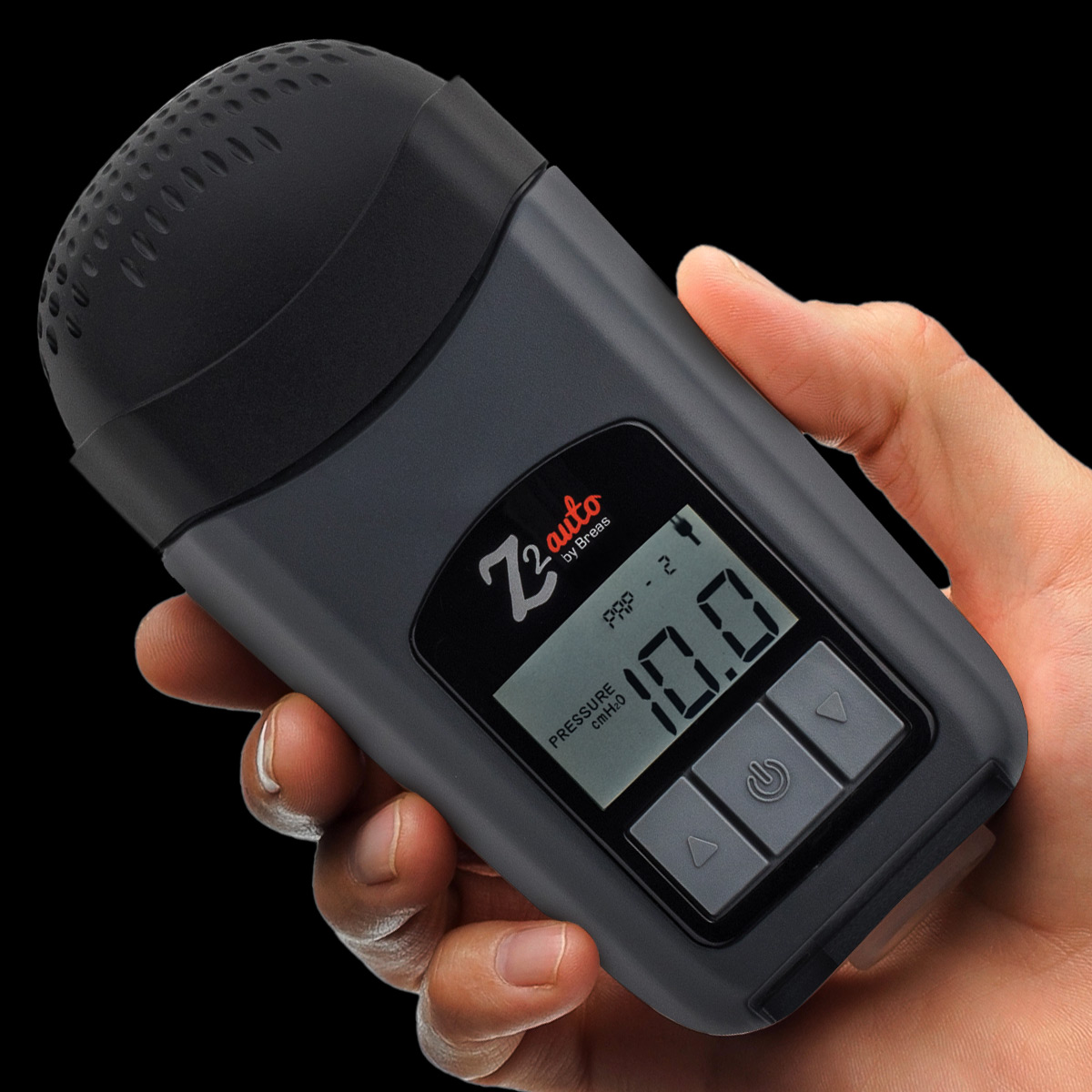 OPTIONAL POWERSHELL INTEGRATED BATTERY. For nights away from fixed power, the optional PowerShell with Extended Life Battery Pack provides an innovative, integrated solution, merging the machine and battery in one convenient package. The PowerShell holds one battery that will last 1-2 nights between charges and batteries recharge using the Z2's standard power supply so there are no extra cords to worry about. For extra nights away, just add additional batteries! The PowerShell can also be used as a backup power supply, automatically taking over during a power outage or blackout.
AUTOMATIC LEAK COMPENSATION. To ensure you're always receiving your prescribed sleep therapy pressure, the Z2 Auto automatically compensates for minor mask leaks. If Z2 detects an excessive air leak, that could be detrimental to therapy, its display screen will warn you to ensure that the leak is corrected promptly.
RAMP FOR COMFORT. For people who prefer to fall asleep with therapy at lower pressure levels, the Z2's ramp feature allows you to start your pressure at a lower setting and ramp it up over time to let you adjust more gradually to sleep therapy.
BIG, BRIGHT, INTELLIGENT LCD DISPLAY. The Z2's large, backlit LCD provides information on your current pressure setting, ramp time, power status, and more. With the Z2, you can always check your current therapy status, but don't worry as the display has an auto-off function so it won't disturb you as you drift off to sleep.
HUMIDIFICATION OPTIONS. If you prefer added humidification when using sleep therapy, the Z2 comes complete with an inline HME Waterless Humidification Filter. A unique alternative to bulky water based humidifiers, HME Filters capture heat and moisture from your breathing as you exhale, preserving and increasing humidity to prevent your airways from drying out during therapy.
NITELOG; FREE IOS AND ANDROID APP. Do you need to track your sleep therapy progress for your job, your doctor, or just for your peace of mind? Download the Nitelog App from the iTunes Store or Android Store and have all the sleep therapy data from your Z2 available at your fingertips. Nitelog uses the Z2's Auto built-in technology to sync data wirelessly so it is simple to set up and use. It also enables you to share it by email so you can send data to your doctor whenever you need to.
COMPATIBLE WITH ANY CPAP MASK. The Z2 comes with a Universal Tube Adapter and a 48' slim tube. If you prefer longer tubing or performance tubing, it can be used with that too. Your Z2 will work with any mask available on the market so you can choose your favorite and it will be compatible.
Where Can You Buy It?
You can buy this online at GoCPAP.com. Simply submit your prescription. If you have any questions, our customer service team would be more than happy to assist you.