Jun 29th 2020
​Product Review: Philips Respironics Nasal Pillows Mask with Headgear - DreamWear Gel
Product Review: Philips Respironics Nasal Pillows Mask with Headgear - DreamWear Gel
The beauty in nasal masks is that it provides airflow directly into your nostrils. This is ideal if you feel claustrophobic when wearing a full-face mask. With the Philips Respironics Nasal Pillows Mask with Headgear - DreamWear Gel, you'll not only get the luxury of breathing comfortably through your nose during sleep, but you'll also be able to adjust pressure points based on your needs.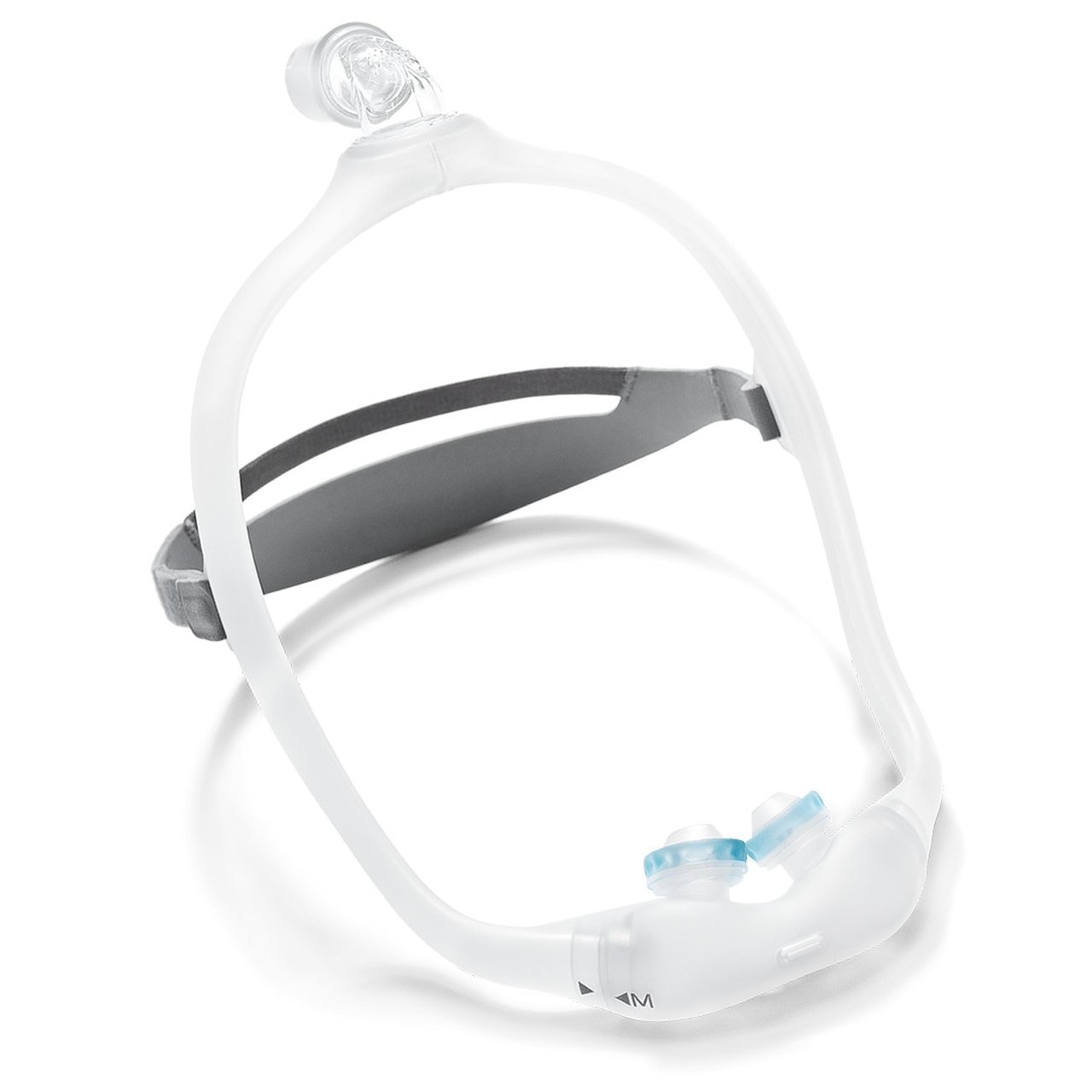 KEY FEATURES:
GEL NASAL PILLOWS FOR COMFORT
Infused with a ring of soft, flexible gel the remarkable nasal pillows found in DreamWear Gel masks contour to the base of the nostrils creating a secure seal without pressure or pinching.
SIMPLE, SECURE HEADGEAR & TUBING ATTACHMENT
DreamWear Gel features soft, single strap headgear that rests at the back of the head, stabilizing the mask without requiring over-tightening or excessive contact. The tubing elbow is located on the top of the head where it can swivel freely to help reduce drag and clutter on the bedsheets.
LIGHTWEIGHT, MINIMAL CONTACT & AN OPEN FIELD OF VIEW
With its combination of a low profile cushion, a soft tubing frame, and single strap headgear the Dream Wear is one of the most minimal masks available for CPAP therapy. It provides the user with an open field of view for reading, talking, or watching TV before bed.
DreamWear Gel Pillow Masks are available with three different pillow sizes -- Small, Medium, Large -- to fit a wide range of users. You can choose the pillow size you prefer in your shopping cart; or if you're not sure which size you need you can select a FitPack with all three pillow sizes so you can try each one to find your best fit. For added customization DreamWear masks are available with three different frame sizes. Most users will prefer the Medium frame regardless of their pillow size; but Small and Large frames are available in your shopping cart.
BENEFITS:
DreamWear Gel Pillow Masks provide CPAP users with a wide freedom of movement. With the mask's unique design and its hollow silicone construction, you get both comfort and flexibility. You'll be able to comply with your sleep therapy without sacrificing your field of vision. This also accommodates various sleep position changes during sleep.
With the DreamWear Nasal Pillow Mask, your life is a lot easier as a CPAP user and sleep apnea patient. Comfort is one of the priorities taken into account when creating this CPAP equipment so putting it on and taking it off is fast and easy, including its assembly. It also features a quick-release hose connection that allows you to easily disengage without disassembling the entire mask.
MORE SATISFACTION WITH SLEEP QUALITY
The main purpose of CPAP therapy is for you to get better sleep. Thus, it only makes sense to purchase nasal pillow masks that does not cause discomfort on the face and any unnecessary pressure points that may disrupt your sleep.
Where Can You Buy It?
You can buy this online at GoCPAP.com. No need to submit a prescription. If you have any questions, our customer service team would be more than happy to assist you.