Jun 24th 2022
How to Run a CPAP While Camping
You've planned your camping trip and can already imagine the joys of the great outdoors: the fresh country air … the scent of the pines … the crackling campfire … and the peace of being one with nature.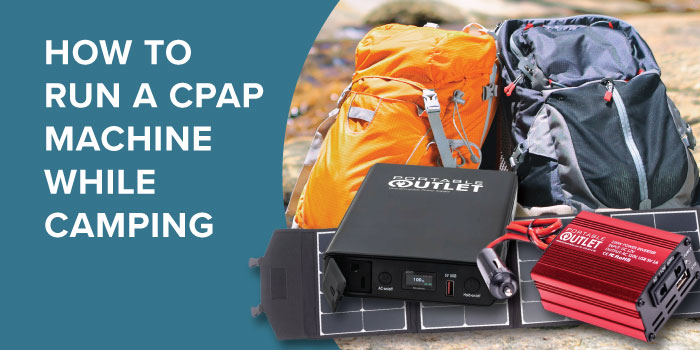 Being off the grid for a night (or a few) can offer heartwarming memories. But it can also bring a few challenges — especially for those who experience sleep apnea. How do you power your CPAP machine? Are there specific concerns you should be aware of?
Here are a few tips and insights that can make camping with CPAP therapy quite doable. Whether you're in a tent or under the stars, a good night's sleep is possible!
Power Sources for Your CPAP
While you have many options for how you can camp, one of the first choices you'll need to make is whether you will be camping near a power source. Deciding to plug in or stay unplugged will determine the steps you need to take to be prepared to use your CPAP on your camping trip.
Campgrounds such as KOA provide clean, well-maintained campsites that have power outlets available. That's great news for anyone who needs to run a CPAP all night long, especially if you also use a humidifier (which can drain batteries quickly). These campsites usually come at a price, however, so be sure to include the cost in your budget.
If you prefer to venture a bit further into the great outdoors, you may not be able to rely on grid power. Instead, you'll need an external battery like the Portable Outlet Rechargeable CPAP Battery with the Solar Panel Charger. Depending on the length of your trip, you may need to recharge or replace your batteries. Most CPAP batteries will provide only a night or two of power, so you'll need to pack extra batteries if your trip is expected to last longer than that.
If you are car camping or in an RV you may be interested in recharging your battery with the Portable DC2AC Car Charging Inverter.
Keep in mind, too, that rechargeable batteries have a USB port and an AC outlet. This can be used to charge multiple electronics such as your computer and phone at the same time. If you travel or camp frequently, this is definitely worth the cost.
Consider Getting a Travel CPAP Machine While Camping
Travel-ready CPAP machines are becoming increasingly popular. They're lightweight, compact, and easy to use. For most types of camping, portability applies to just about everything you take with you, including your CPAP treatment.
Know that most CPAP machines currently on the market do not have a built-in battery, so you'll also need to purchase a travel battery pack to accompany your machine. Newer models of travel-sized CPAP machines can also include high-tech features like automatic pressure adjustments that improve battery life. For example, check out the Breas HDM Z2 Auto Travel CPAP Machine and its PowerShell Extended Life Battery.
NOTE: If you buy rechargeable batteries for your CPAP machine and/or humidifier, be sure that the battery is compatible with your device. Some machines or batteries do not come equipped with universal plugs or adapters. Note, too, that travel CPAP parts such as masks and tubes may not be compatible with other machines.
Additional Tips for Running a CPAP While Camping
Don't Forget Your Distilled Water
As you may know, CPAP machines require distilled water for optimum operation. While the extra weight of carrying water is less than ideal, it's a must-have. Find or prepare a small, sealable bottle with distilled water to bring along.
Keep It Clean
Cleaning ANYTHING on a camping trip can be challenging, but don't neglect to keep your CPAP machine and parts as pristine as possible. Bring along an extra water bottle, some mild liquid soap, and a soft towel specifically for keeping your equipment clean every day. We recommend placing your cleaning supplies in a zipper-lock bag for safekeeping. Be sure to grab a pack or two of 3B Medical Travel Wipes, which are gentle enough to clean your mask and accessories.
Solar-Powered Battery Charger
Many solar-powered battery charger models are compatible with CPAP machines and can be quite handy if you're off the grid for more than a couple of days.
Keep Up With Your Therapy
Whatever you choose to do, please continue your CPAP therapy while you're camping or traveling. Your successful sleep is important for your health. There are lots of solutions available, so be mindful of your well-being as you make your plans.
Shop for the Best Travel CPAP Machines From GoCPAP
You CAN treat your sleep apnea while you're camping or traveling. GoCPAP.com provides you with all your CPAP needs, including vacation necessities.
Shop now for all your travel CPAP needs.