Dec 19th 2022
How to Dry a CPAP Hose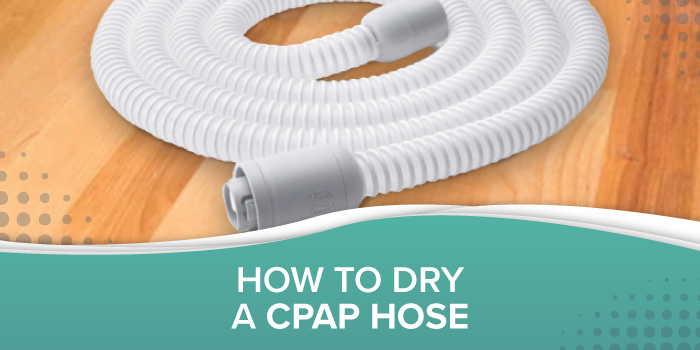 If you're a sleep apnea patient, you know how wonderful CPAP treatment can be. Those restful nights can be life changing (and your bed partner likely loves those nights being snore free)!
Taking proper care of your CPAP equipment is essential to adequate CPAP therapy. Everything from the machine, mask, hoses, and filters must be cleaned and cared for every day, both for optimum treatment as well as good health.
Good care of your CPAP equipment includes drying your CPAP hose after use and cleaning. A dry CPAP hose provides several important benefits that are directly related to the quality of your CPAP therapy, including:
A dry CPAP hose prevents mold and mildew from growing inside the hose
It helps prevent condensation from building up inside the hose, which can lead to water in your lungs if you use your CPAP machine while sleeping
It also extends the lifespan of your hose by preventing premature deterioration due to moisture buildup
If you don't dry your CPAP hose, you may notice that your breathing becomes more difficult or that your mask leaks more often. In extreme cases, not drying your CPAP hose can lead to pneumonia or other serious respiratory infections.
Steps for How to Dry a CPAP Hose
If you suffer from sleep apnea, it's important to keep your CPAP machine clean and dry. This way, the machine will work properly and you'll be able to breathe more easily at night.
Here are three tips on how to dry a CPAP hose:
1. Hang the hose over a towel rack or shower rod to air dry. You can also lay it flat on a towel in a well-ventilated room.
2. With the hose attached, run your CPAP machine without water for a few minutes after cleaning.
3. Be sure to let the hose completely dry before using it again.
Also, avoid placing your CPAP hose in direct sunlight for drying. This can cause premature cracking and deterioration of your CPAP hose.
Preventing Moisture Buildup in a CPAP Hose
Of course, CPAP tubes can be easier to dry when they're not as wet. Here are a few tips for preventing moisture buildup in your CPAP hose.
Use a CPAP hose cover to help protect the hose from moisture and keep it clean.
Daily Cleaning
Regularly cleaning your CPAP machine will help to prevent moisture buildup in the hose as well as keep it free of dirt, debris, and contaminants.
Cleaning Tips
1. Be sure to unplug your CPAP machine before cleaning.
2. Remove the tubing from your CPAP machine and mask.
3. Rinse the tubing (inside and out) with mild soap and warm tap water in a sink. Never use cleaning products such as detergents, which can harm the tubing and leave unwanted residue.
4. Rinse again under a flow of warm tap water.
5. Let the tubing dry on a clean towel on a flat surface. Never leave the tubing in direct sunlight.
Use Distilled Water
Using distilled water in your humidifier will help to prevent mineral deposits from building up in the hose.
Hose Replacement
Replacing your CPAP hose every few months (ideally, every three months) will help to ensure that it is always in good condition.
Replacing Your CPAP Hose
Experts recommend replacing your CPAP hose every three months. You can find a wide variety of CPAP supplies — including CPAP hoses — at GoCPAP.com. We carry all major makes and models of CPAP machines, accessories, and supplies.
If you have questions about CPAP machines or supplies, please contact us. We're happy to guide you through your options and find the best equipment for your treatment.
Shop now for all your CPAP supply needs.