Jul 6th 2020
CPAP & COVID-19: Guide for Sleep Apnea Patients During the COVID-19 Pandemic
CPAP & COVID-19: Guide for Sleep Apnea Patients During the COVID-19 Pandemic
The American Academy of Sleep Medicine (AASM) advises everyone to follow the tips on how to avoid getting sick during this pandemic as provided by the Centers for Disease Control and Prevention (CDC).
Do note that the information provided below is for educational use only. We are unable to provide specific medical advice. It is highly recommended to seek the help of your physician for any health or medical condition that you may have.
Frequently Asked Questions:
Question: Am I at a higher risk for coronavirus if I have sleep apnea?
Answer: There is currently no evidence that suggests that sleep apnea patients are at a higher risk for coronavirus. AASM identify the risk factors for severe illness from coronavirus as follows:
People who are 65 years old or older

People who have chronic lung or kidney disease

People with serious heart conditions

People who experience severe obesity or those with a BMI of 40 or higher

People who have any medical disorder that weakens the immune system

People who have been in close contact with those who have the coronavirus
Question: Should I continue using my CPAP if I already have some of the coronavirus symptoms?
Answer: You should continue with your CPAP therapy as directed as this helps your immune system by offering better and healthier sleep.
Question: How can I protect myself from the coronavirus while using CPAP?
Answer: Keeping your CPAP equipment clean is one of the most effective ways of preventing COVID-19. Be sure to disinfect your CPAP machines, masks, and accessories per manufacturer's instructions.
Never share your CPAP equipment with other people. Furthermore, make sure that they are kept properly and away from the physical contact of others. Lastly, be sure that you follow the equipment's replacement schedule. For masks, this should be replaced every 3 to 6 months.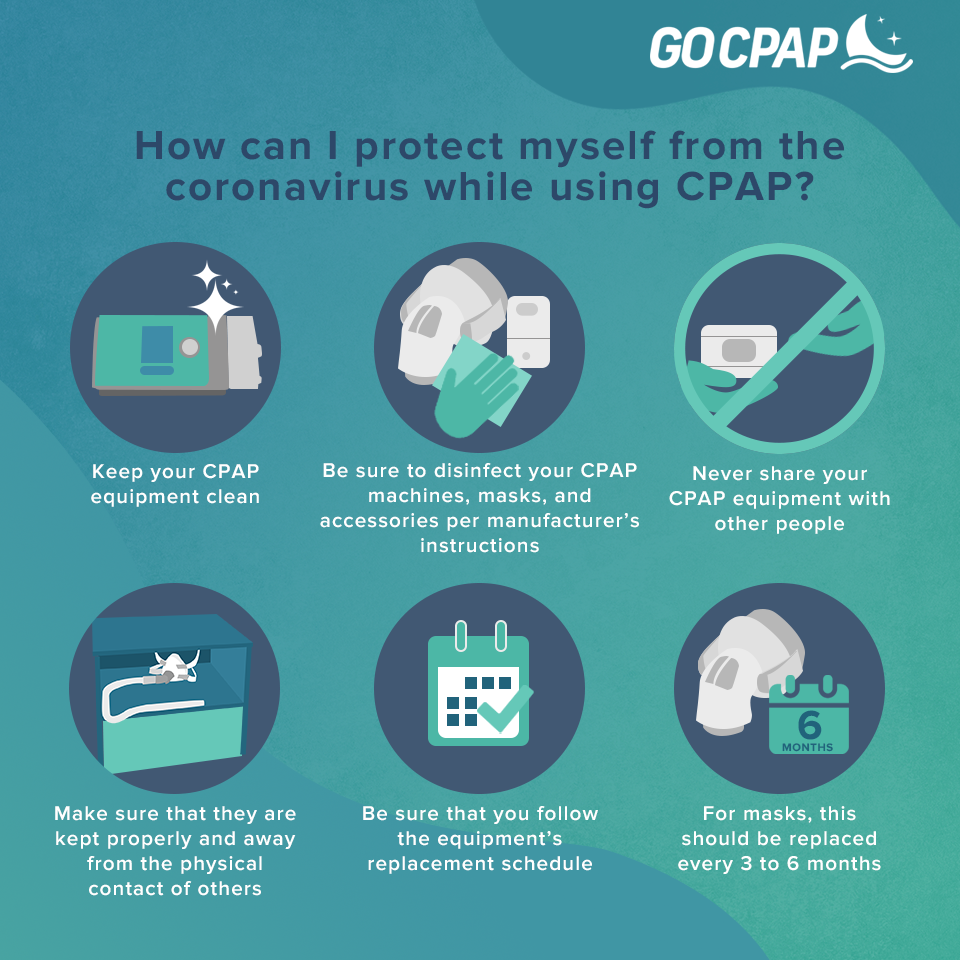 Question: How do I reduce the risk of coronavirus infection while using CPAP?
Answer: There are numerous CPAP cleaner and sanitizing machines that you can use to disinfect your equipment. Not only are these easy to use, but you can also ensure that your devices and their parts are thoroughly cleaned.
Here are some of the amazing products to invest in:
Where Can You Buy It?
You can buy this online at GoCPAP.com. Simply submit your prescription. If you have any questions, our customer service team would be more than happy to assist you.