Apr 14th 2023
The ResMed AirSense 10 vs 11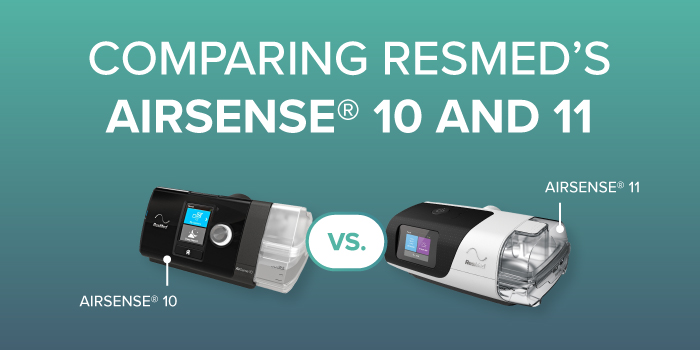 Are you looking for a new CPAP machine to help treat your sleep apnea? The ResMed AirSense line provides a range of high-quality machines to fit your needs. Two popular models are the AirSense 10 and AirSense 11, which offer various features to help you get a good night's sleep.
The AirSense 10 is a tried and true model that has been a favorite among CPAP users for years. It offers several features, including AutoRamp and Easy Breathe, which provide a comfortable and efficient treatment experience.
If you're looking for something with more high-tech features, the AirSense 11 may be the machine for you. This newer model offers upgrades such as:
Responsive touch screen
Personal Therapy Assistant
Care check-in
Whether you opt for the tried and true AirSense 10 or the upgraded AirSense 11, you can rest assured that you'll get a top-of-the-line CPAP machine to help you get a quality night's sleep.
Let's take a closer look at the differences between the two models.
What Do Both AirSense Models Have?
Let's take a bird's eye view of the comparison.
AirSense 11 AutoSet
AirSense 10 AutoSet
Operating pressure range (cm H2O)
4–20
4–20
AutoSet mode device default pressure
Min pressure: 4 Max pressure: 20
Min pressure: 4 Max pressure: 20
Modes of Operation
CPAP
AutoSet
AutoSet For Her Program
Product Features
CSA Detection
RERA Detection
CSR Detection
AutoRamp with sleep onset detection
Easy-BreatheTM waveform with EPR
SmartStartTM/Stop feature
Care Check-In
Personal Therapy Assistant
Bluetooth® connectivity
OTA: over-the-air software updates
AutoSet Response comfort setting
Ultra-Quiet Operation
Oxygen use
Up to 15 L/min
Up to 4 L/min
Ramp Functionality
Pressure Settings Ranging From 4cm H2O to 20cm H2O
Integrated Heated Hose
Humidification
Standard fully integrated
Climate Control with ClimateLineAirTM or

ClimateLineAir 11 (available only with AirSense 11 devices

Data Transfer

Integrated cellular module
SD data card
Data storage
Detailed data on SD card (30 sessions)
High-resolution flow on SD card (30 sessions)
Compliance and summary data on SD card/device (365 sessions)
Product Specs
Sound Level
27 dBA
26.6 dBA
Weight
2.5 lbs
2.75 lbs
Size (Machine Only)
10.21″ x 3.72″ x 5.45″
10.04″ x 4.57″ x 5.91″
Power
65W AC Adaptor
90W AC Adaptor
Max Operating Altitude
9870 ft
8500 ft
With upgrades come many new features. However, let's first explore what both versions (Airsense 10 and 11) have in common:
AutoSet algorithm
AutoRamp with sleep onset detection
CSA, RERA, and CSR detection
Easy-Breathe waveform with EPR
AutoSet Response comfort setting
Let's take a closer look at what each of these features means.
AutoSet Algorithm
The AutoSet algorithm ensures that the machine adjusts to your breathing needs and delivers the right amount of pressure throughout the night.
AutoRamp
The AutoRamp feature allows the machine to gradually increase the pressure to your prescribed level over time, making it easier to fall asleep.
CSA, RERA, and CSR Detection
The ResMed AirSense 10 is equipped with advanced algorithms that can detect various respiratory events that may occur during sleep, including CSA, RERA, and CSR. These events can be indicative of different types of sleep apnea or other respiratory conditions, and detecting them can help your doctor better diagnose and treat your sleep disorder.
Easy-Breathe Waveform with EPR
The Easy-Breathe Waveform makes your breathing more comfortable and natural by providing a smooth and natural waveform that mimics your breathing patterns.
The AirSense 10 also features Expiratory Pressure Relief (EPR), which is a technology that reduces pressure during exhalation. This can make breathing feel more natural and comfortable by simulating the feeling of natural breathing.
With EPR, the pressure drops during exhalation and then returns to the prescribed level during inhalation, creating a more comfortable and natural breathing experience.
AutoSet Response Comfort Setting
The AutoSet Response comfort setting provides a more comfortable and personalized therapy experience by adjusting the pressure settings in real time to match your breathing needs.
Contrasting the ResMed AirSense 10 vs 11
Let's explore what additional features the ResMed AirSense 11 has to offer.
Responsive touch screen
Personal Therapy Assistant
Care Check-in
Bluetooth connectivity
Integrated for Her feature
Over-The-Air software updates
Responsive Touch Screen
The AirSense 11 has a user-friendly LCD touchscreen that makes navigating through the settings and data easy.
Personal Therapy Assistant
The Personal Therapy Assistant is a cutting-edge feature that provides personalized feedback and guidance to aid you in getting the most out of your CPAP therapy.
It works by analyzing your therapy data and giving you actionable insights that can help you optimize your therapy. This includes information on your AHI (apnea-hypopnea index), leak rate, and other metrics that can impact the effectiveness of your therapy.
Care Check-In
The Care Check-In feature is a unique technology in the ResMed AirSense 11 CPAP machine that allows you to stay connected with your healthcare provider remotely. With this feature, your healthcare provider can monitor your therapy data in real time and adjust your therapy as needed without requiring you to visit the clinic for regular check-ins.
Bluetooth Connectivity
With the AirSense 11, you can now connect to ResMed's myAir app, which allows you to track your sleep data and receive personalized coaching, via Bluetooth. Both AirSense 10 and AirSense 11 utilize the same cellular modem feature to track your sleep data.
However, the AirSense 11 integrates Bluetooth connectivity, so you can see your sleep stats right in your myAir app and get an accurate picture of your sleep therapy.
The AirSense 11 also uses the same cellular modem feature as the previous original AirSense 10 model (not applicable to the AirSense 10 Card-to-Cloud) with an added Bluetooth integration.
Integrated for Her Feature
For most AirSense devices, there is typically a "For Her" or "For Him" version. With the AirSense 11, there is not an Auto Set For Her therapy mode built into the device's algorithm. Users can go into settings and set it to "For Her."
With the AirSense 11, there's no longer a "For Her" or "For Him" version as with the previous line of machines. There's now an exclusive AutoSet For Her therapy mode built into the machine's algorithm, which can be set in the menu settings, making it a two-in-one machine.
Over-The-Air Software Updates
With this new feature, users can automatically receive updates and improvements to their CPAP Systems. The device will automatically recognize the software upgrade and download the new humidifier software from a secure ResMed server.
While the system is updating, the device will continue to operate as normal.
Which Machine Do You Choose? ResMed AirSense 10 vs 11
Overall, the AirSense 11 is a newer model with some significant upgrades over the AirSense 10. However, the AirSense 10 is still a reliable and efficient machine that offers several features to help improve your sleep apnea treatment experience.
It's worth considering your own needs and preferences when deciding which machine to choose. If you'd like to explore goCPAP's sleep therapy machines, click here to learn more.