May 23rd 2022
The Most Comfortable CPAP Nasal Pillows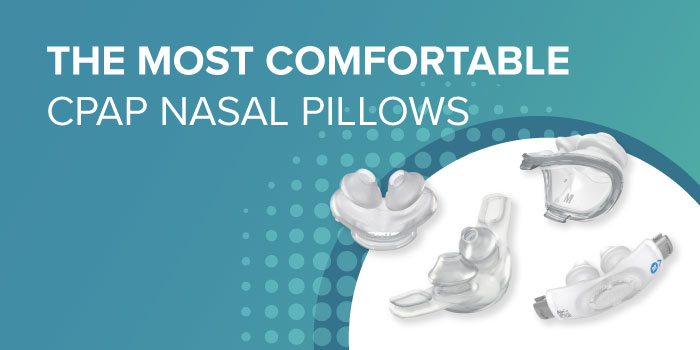 No matter how you sleep – stomach, back, side, or tossing and turning — a nasal pillow mask will rarely be intrusive. But, that is only one benefit of choosing or switching to a nasal mask. Nasal pillow masks stay out of the way, provide ample sight for reading or watching TV in bed, and have comfortable plush nasal pillows that help to eliminate red marks. Simply, they have transformed CPAP therapy.
Countless Unintrusive Nasal Pillow Options
With so many types of CPAP masks on the market, it can be hard to narrow down your search. However, below is a list of the most comfortable CPAP nasal pillow masks with their features and benefits.
ResMed's AirFit P10
The ResMed AirFit P10 Nasal Mask has a simple design that makes the P10 nasal mask comfortable while maintaining a secure seal. As a minimalist mask, it includes only three parts that are easy to clean with warm water and liquid dish soap.
Features and Benefits:
Flexible P10 nasal pillows mask provides a secure fit and seal
A lightweight tube offers freedom of movement
Elastic headgear for proper fit
Easy assembly and cleaning with a three-piece design
QuietAir woven-mesh vents gently release air
ResMed's Swift FX
The Swift FX is compatible with numerous versions, including the For Her, Bella, and Bella Gray versions. With its flexible cushion, the Swift FX provides maximum comfort, adjusting to sleep movement throughout the night while maintaining a secure seal. This mask is perfect for active sleepers.
Features and Benefits:
Dual-wall pillows maintain the seal and accommodate movement
High-pressure seal pairs with high-pressure settings on specific CPAP machines
The minimalist design offers more freedom
A soft and flexible frame cushion provides ultimate comfort
Philips Respironics DreamWear Silicone Nasal Pillows Mask
The DreamWear Silicone Nasal Pillows Mask provides supreme comfort, conforming to the shape of your nostril. Both nasal pillows enable you to sleep comfortably in any position without sacrificing seal. Users reported that this mask felt like they had nothing on their faces.
Features and Benefits:
Soft, silicone frame adapts to the contours of your face.
Provides numerous sleep position options
The nasal pillow's soft, flexible silicone offers supreme comfort
Multiple size options so you can find the perfect fit
Single strap headgear
Explore More Comfortable Nasal Pillow CPAP Mask Options
If you are still searching for a perfectly comfortable nasal pillow CPAP mask, you can search for more mask styles here.
Shop here for your equipment needs.