May 12th 2022
The Best CPAP Masks on the Market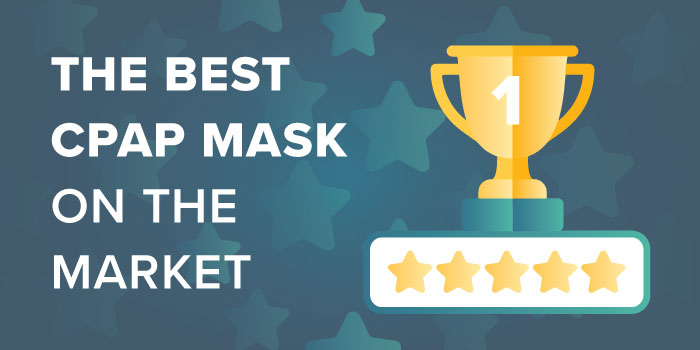 Knowing where to begin a new journey can always be the hardest, but it only takes a simple first step. As experts on sleep apnea, we understand that a lack of adequate sleep affects your whole life. That's why we wanted to help you take your first step in your CPAP journey.
Below are the best CPAP masks on the market in full-face, nasal, and nasal cushion categories. Try one of these masks to begin your CPAP therapy. Or, if you've been a CPAP user for a while, try one of these models to upgrade.
ResMed AirFit P10 Nasal Cushion CPAP Mask
The AirFit P10 is an unobtrusive nasal pillow mask perfect for anyone looking for the smallest and lightest mask on the market. Only weighing 1.6 ounces, the AirFit P10 is about the weight of nine sheets of paper or one and a half envelopes. That's practically nothing!
Now, take that small amount of weight and mix it with soft nasal cushions, extreme flexibility, and unbelievably soft air dispersion. That's ResMed's AirFit P10 — a minimally perfect mask for anyone looking for a free and weightless night of sleep.
There's More!
QuietAir Vents — These woven mesh nets limit disturbances in your sleep as it decreases the air dispersion to 21 decibels, less than the sound of tree leaves rustling.
Cushioned Prongs — These prongs enter your nose, leaving your mouth and cheeks entirely free from any uncomfortable equipment.
Phillip Respironics DreamWear Nasal CPAP Mask
Are you an active sleeper? The DreamWear mask accommodates all of your tossing and turning. Its top-of-the-head design makes it adaptable to all sleeping movements by giving the tubing more room to move and makes it less likely to get tangled in your sleep.
Not only is it adaptable, but it is also made with soft and flexible silicone, making the mask super comfortable. The DreamWear mask also comes with the option to use gel cushions instead of its traditional silicone.
This mask works all sleeping positions — back, side, and stomach. So, no matter the position, this mask has your back!
There's More!
Slip-resistant frame — With a hollow, silicone frame, this frame softly grips your face ensuring minimal movement or disturbance of the seal and extreme comfortability.
360-degree swivel — It can rotate full circle. Therefore, so can you. The top-of-the-head tube really does enable comfortable CPAP therapy for active sleepers.
ResMed's Quattro FX Full-Face CPAP Mask
And finally, the best full-face CPAP mask on the market: the Quattro FX. While nasal masks have grown in popularity with their minimalist design, many CPAP patients still prefer full-face masks, and the Quattro FX meets all expectations.
This mask's headgear goes around the head instead of the forehead, creating fewer pressure points for a more comfortable experience. Further, this mask provides a secure seal.
There's More!
Dual-wall SpringAir cushion — This mask's cushion provides a secure seal, preventing leaks and preventing soreness in the morning with its contoured membrane. You can purchase your cushion in small, medium, or large.
Set and forget! — With its easy-to-use headgear, you can set your headgear size and never have to adjust it again. Easy to set up, and no changes are necessary after that.
More CPAP Masks on the Market
Still haven't found what you're looking for? No worries! GoCPAP.com offers many types of CPAP masks and styles and provides up-to-date information on all products in our blogs.
Explore more blogs here and masks here.
Shop here for your equipment needs.