Jun 8th 2022
The Best CPAP Mask for Side Sleepers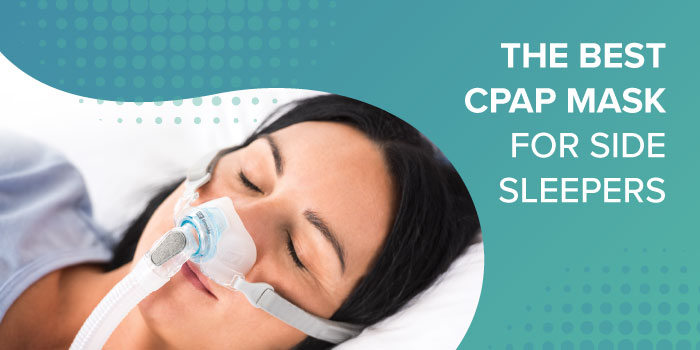 Finding a CPAP mask as a side sleeper takes more time to find the perfect match. The most common style mask for side sleepers is a nasal pillow mask. Nasal pillow masks are less intrusive and have smaller overall seal areas. This makes the seal less likely to dislodge while you sleep on your side.
At GoCPAP.com, we have numerous CPAP masks specifically designed for side sleepers. Explore these types of CPAP masks below to find a perfect match for your unique CPAP therapy.
ResMed AirFit P10 Nasal Cushion CPAP Mask
The AirFit P10 nasal pillows insert into both nostrils, sealing on the inside of your nose instead of the outside like other nasal masks. This type of seal is less likely to be disturbed in a side sleeping position. Additionally, the cushion's dual-wall construction creates an airtight seal. Finally, this mask features QuickFit headgear, which is unobtrusive, making it convenient for all sleeping positions.
Other Benefits:
QuietAir Vents — These woven mesh nets limit disturbances in your sleep, being quieter than the sound of tree leaves rustling.
Soft, Cushioned Prongs — These soft, nasal cushions enter your nose, leaving your mouth and cheeks entirely free from any uncomfortable equipment.
Lightweight — Only weighing 1.6 ounces, the AirFit P10 is one of the lightest CPAP masks on the market.
ResMed's Swift FX Nasal Cushion CPAP Mask
Similar to the AirFit P10, the Swift FX nasal pillow mask also seals within the nostrils, making it easy to sleep in any position. Further, this mask is ideal for active sleepers as well, giving you more freedom of movement. Its flexible cushion adjusts to sleeping movements without breaking its seal, and the soft frame provides ultimate comfort.
Other Benefits:
Dual-Wall Pillows — The flexible pillow helps maintain a seal and accommodate movement.
High-Pressure Seal —This mask pairs with high-pressure settings on specific CPAP machines.
Minimalist — The Swift FX's minimalist design offers more freedom at night.
Philips Respironics DreamWisp Nasal CPAP Mask with Headgear
With its revolutionary top-of-the-head mask design, the DreamWisp allows greater freedom of movement by keeping tubing out of the way. You are free to change sleeping positions throughout the night – from your side to your back to your stomach. Users stated they were satisfied with how well the mask stayed in place while sleeping.
Other Benefits:
Lightweight Design — The lightweight frame makes the mask feel less bulky than other models.
Mask Frame Includes Built-In Airflow —Allows to eliminate disruptions in air pressure when lying on your side.
Magnetics Clips — These allow you to remove the mask without disrupting your preferred comfort settings.
ResMed AirFit F30 Full Face CPAP Mask
While nasal masks are best for side sleepers, the AirFit F30 is also a valid option if you aren't keen on wearing a nasal mask. The F30 is relatively minimalistic for full-face mask designs, which is ideal for side sleepers. It is also suitable for active sleepers because its secure fit ensures a tight seal that will not be disrupted when tossing and turning.
Other Benefits:
QuietAir Elbow — With multiple vents, the AirFit F30 has almost silent air dispersion making it easy for you and your bed partner to sleep soundly.
UltraCompact Face Cushion — This mask covers only the nostrils and mouth, eliminating problematic touchpoint areas like the nasal bridge and cheekbones.
Lightest Full Face Mask — As the lightest full-face CPAP mask on the market, the AirFit F30 is comfortable and barely noticeable.
Where to Buy the Best CPAP Mask for Side Sleepers
GoCPAP.com offers a large selection of CPAP masks, machines, and supplies fully equipped to help you on your sleep apnea journey. You can read about other common sleep apnea questions on our blog and shop these and other masks here.
Shop here for your equipment needs.