Jul 17th 2020
Product Review: SoClean 2 CPAP & Mask Cleaner
Product Review: SoClean 2 CPAP & Mask Cleaner
Cleaning your CPAP equipment regularly is critical to ensuring safe and effective sleep therapy; and with SoClean 2 cleaning is easy! SoClean 2 automatically cleans and sanitizes masks, tubing and humidifier chambers while they're still connected to your CPAP machine. Using a natural cleaning process, SoClean 2 effectively destroys 99.9% of mold, bacteria and viruses without the use of liquids or harsh chemicals.
KEY FEATURES:
EASY, SIMPLE, AUTOMATIC CPAP SANITIZER
The SoClean 2 cleans and sanitizes your CPAP equipment automatically every day so you'll go to sleep each night knowing your sleep therapy routine is germ, virus and bacteria free! SoClean 2 uses Activated Oxygen -- a powerful, natural sanitizing agent -- to thoroughly clean and disinfect without water or harsh, smelly chemicals.
COMPATIBLE WITH ALL CPAP MACHINES
SoClean 2 is compatible with virtually all CPAP masks, headgear, tubing, and machines. For machines that use standard or premium tubing you simply attach the included Standard Tubing Adapter to the back of your sleep therapy device and SoClean 2 is ready to go. For machines with a heated humidifier a special tubing insert is included so the chamber can be automatically cleaned at the same time as your mask and tubing!
SoClean adapters are even available for machines that use heated tubing or have specialized tubing outlets -- like ClimateLine, ThermoSmart and SystemOne Heated Tubing -- just select the adapter for your machine when adding the SoClean 2 to your shopping cart.
INCLUDES A FREE ADAPTER FOR YOUR CPAP!
We include a free adapter with every SoClean so you'll be sure to have everything you need right out of the box. Choose from the following free adapters when adding the SoClean 2 to your shopping cart:
Fisher & Paykel: SleepStyle 600, ICON, ICON+ and F&P SleepStyle Series Machines
Philips Respironics: SystemOne, DreamStation and DreamStation Go Series Machines
ResMed: S9, AirMini, AirSense 10, AirStart 10 and AirCurve 10 Machines
Somnetics: Transcend Series Machines
HDM Z1 & Z2: Z1 & Z2 Series Machines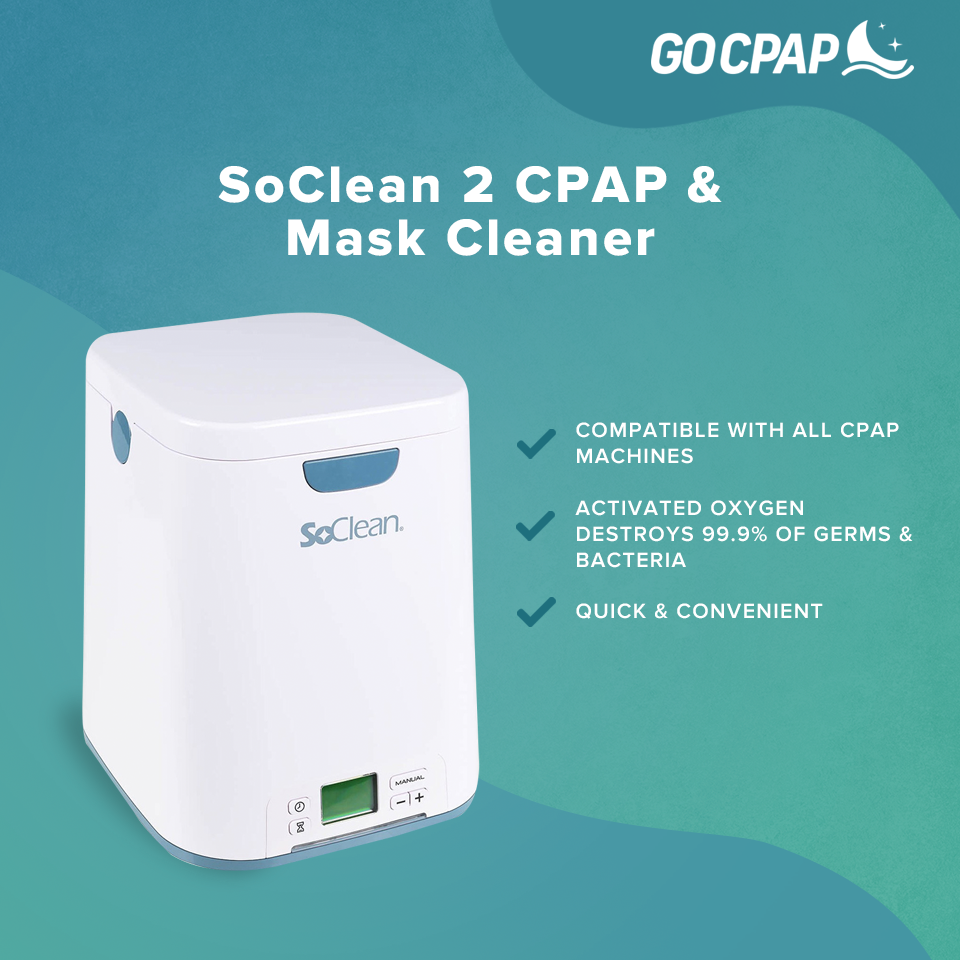 BENEFITS:
ACTIVATED OXYGEN DESTROYS 99.9% OF GERMS & BACTERIA
Activated Oxygen has been used in hospitals, food production and water purification for many years. It is created when a third atom of oxygen combines with the two-atom oxygen molecule that makes up the air we breathe. The SoClean 2 generates Activated Oxygen from room air and pumps it through your CPAP equipment to destroy molds, bacteria and viruses. A special filter then converts the activated oxygen back into the air we breathe.
SoClean 2 has been independently lab tested and proven to destroy 99.9% of germs, bacteria, viruses and mold using 100% natural and safe Activated Oxygen. No chemicals are used!
EASY & AUTOMATIC DAILY CLEANING
After a simple initial setup, SoClean 2 will automatically sanitize your equipment each day so it's clean and ready for you to put on when you go to bed each night. And if you ever want to sanitize your equipment manually -- after a nap or just for extra protection -- it's as easy as the press of a button! SoClean 2 is simple to use and intelligently designed so you'll be sure your equipment is properly sanitized and disinfected whenever you use it.
The SoClean 2 cleans masks, headgear, tubing and humidifier chambers quickly and conveniently while they're still attached to your CPAP! When you wake up from a restful night's sleep, just place your mask, with headgear, in the SoClean 2's cleaning chamber with your hose still attached. Channel the hose through hose slot on the side of the SoClean 2 and close the lid. SoClean 2 will turn on automatically when it's time to clean your equipment.
Cleaning with SoClean 2 only takes a few minutes, but you should leave the lid on the unit securely closed for at least 2 hours after the initial cleaning cycle for proper sanitization. SoClean 2's cycle indicator lights will let you know when it is working and when the cleaning process is complete; and onscreen indicators will let you know the status of your SoClean unit at all times. SoClean will never operate without a mask and hose present, so if you forget to insert your mask one morning don't worry, just put it in when you get home for the night and press the manual cleaning button and let SoClean 2 get to work!
Where Can You Buy It?
You can buy this online at GoCPAP.com. No need to submit a prescription. If you have any questions, our customer service team would be more than happy to assist you.