Jul 24th 2020
​Product Review: ResMed Full Face Mask Assembly Kit - AirFit F10
Product Review: ResMed Full Face Mask Assembly Kit - AirFit F10
ResMed's AirFit F10 Full Face CPAP Mask delivers proven performance and reliability in a simple, user-friendly design. The compact, lightweight frame offers a clear line of sight while minimizing facial contact; and the Spring Air cushion ensures a soft, secure seal around the nose and mouth. AirFit F10's SoftEdge headgear features slim rolled-edge straps that provide support without over-tightening or pinching.
KEY FEATURES:
Features a minimalist design that reduces facial contact
With a sleek frame and compact cushion, the AirFit F10 minimizes facial contact, providing stability and an unrestricted field of vision without a forehead support. AirFit F10's curved frame arms are made of soft, clear silicone that hovers just above the cheeks or rests gently on them. Soft fabric sleeves are included as an optional comfort accessory for those who prefer the feel of fabric to silicone.
Features a dual-wall spring air cushion
AirFit F10's Spring Air cushion has a lightly textured surface that feels more natural on the skin and improves seal. The dual-wall design gently inflates during therapy to create a soft, adaptable pocket of air between the mask the face. Updates at the nasal bridge reduce pressure and leaks. Mask packs are available with three cushion sizes -- Small, Medium, or Large -- to fit a wide range of users. Extra Small cushions are also available as a separate item for users with smaller faces.
Includes circular diffused vents and quick release elbow
The AirFit F10 features a one-piece elbow with quick-release squeeze-tabs so it's easy to detach with one hand at night. The elbow rotates 360° and includes an independent tube swivel to reduce tubing drag. Advanced venting, around the elbow, delivers ultra-quiet performance. Air is dispersed gently away from the user and bed partners so everyone can enjoy a quiet, comfortable night's sleep.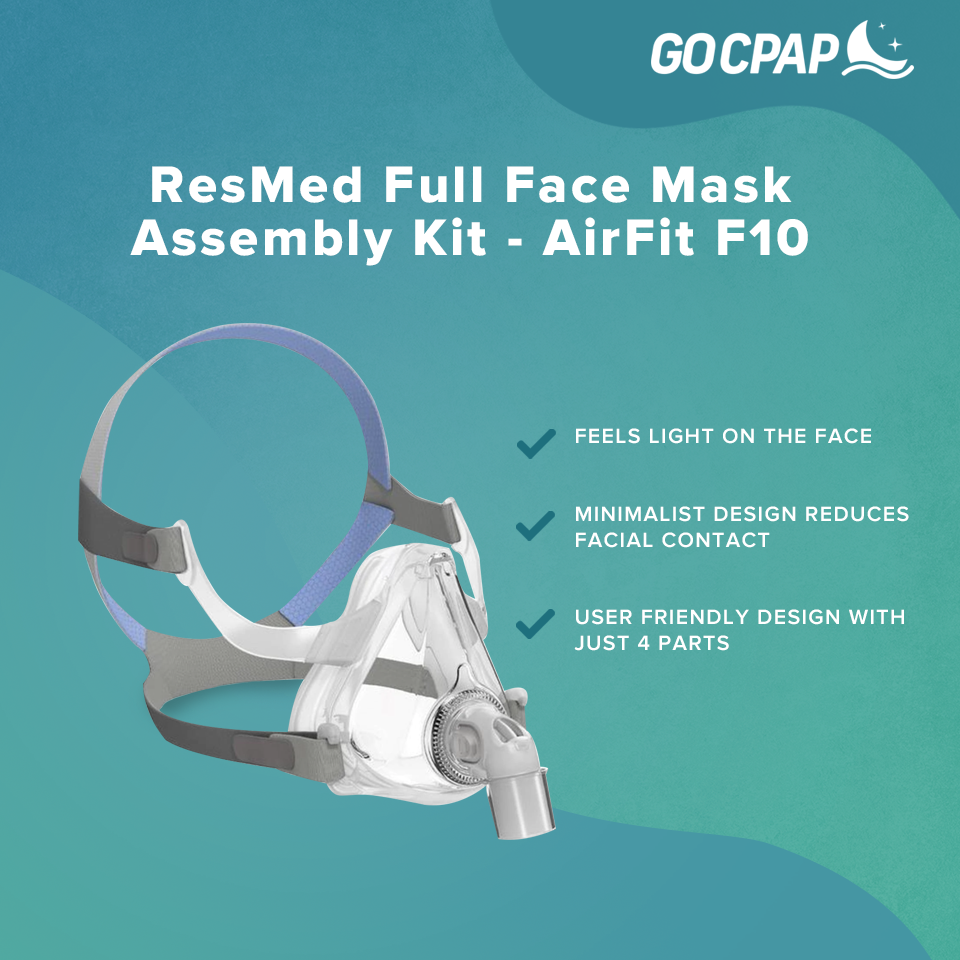 BENEFITS:
Feels light on your face and gives you more freedom of movement
Made of lightweight, durable materials AirFit F10 Mask feels lighter on the face, and is less susceptible to leaks, than more traditional full face masks.
Promotes a user-friendly design with just 4 parts!
The AirFit F10's user-friendly design is easy to fit and easy to maintain. It has just four parts -- elbow, frame, cushion, and headgear -- so there's no need to worry about losing bits or breaking clips. Headgear Loops on the frame make it easy to detach and reattach the headgear without constant adjustments. The cushion attaches to the frame with a simple click and removes with a squeeze. What could be more simple!
Where Can You Buy It?
You can buy this online at GoCPAP.com. No need to submit a prescription. If you have any questions, our customer service team would be more than happy to assist you.