Dec 13th 2021
Luna II Auto CPAP Machine Reviews and Comparisons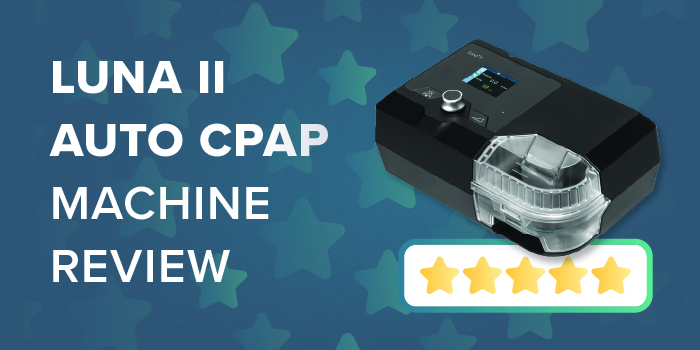 Due to machine recalls and unexpected shortages, searching for a new CPAP machine might be more challenging than usual. However, the Luna II Auto CPAP machine is currently available and hasn't been impacted by any recalls.
This article will provide you with the Luna Auto II CPAP features and reviews while comparing this product to the Luna II QX Auto CPAP machine. The chart below gives an overview, while a detailed comparison is provided further in the article.
Luna II Auto CPAP Features
One main benefit of the Luna II Auto CPAP machine is that it's available with a heated humidifier! The added humidifier makes it ideal for allergy sufferers or patients who need high-pressure treatments. Some of the other leading features include:
Share sleep data with your doctor via WiFi or cellular data
Access to the 3B or Luna QR app that works for both Apple and Android devices
60-minute ramp time before the machine delivers your prescribed pressure levels
Automatic pressure adjusting to accommodate your lifestyle and body changes
Reslex® technology for pressure relief throughout the use of your therapy
Auto-start as soon as the mask is placed on your face
Auto-stop if the mask is removed or a leak is detected
Luna II Auto CPAP Machine Reviews
After reviewing the above features, the Luna II Auto CPAP machine includes reviews that make this device the ideal option for various CPAP patients.
Allergy Sufferers
Thanks to the built-in heated humidifier chamber, your sinuses and airways will have relief throughout the night, and you'll wake up without the congestion.
New CPAP Users
If you're searching for your first machine, the full-color LCD display makes it easy for you to:
Navigate the single-dial menu for machine settings
Access your therapy data
Easily select pressure settings and ramp time
Patients Who Require High-Pressure Settings
First, you have the option for a 60-minute ramp time before achieving your desired pressure level (most machines only allow for a 45-minute ramp time). Additionally, the manufacturer uses the Reslex® technology for expiratory pressure relief. It reduces bloating and cramping, increases normal breathing sensations, and allows easier exhalation throughout the night.
CPAP Users Looking for Convenience
This device makes comfort a top priority with its auto start/stop feature and the free app that allows you to monitor your therapy and send the results to your doctor.
Luna II Auto & Luna II QX Comparison
Now that you understand its features, how does it compare to the newer model on the market? Below is a comparison of the two devices to help you make the right purchase.
Similarities
Both machines offer the same Luna look and feel with the display and device functions. Additionally, they both feature the Reslex® technology to provide pressure relief.
Differences
The Luna II QX machine features central sleep apnea (CSA) detection as the most significant difference between the two devices. This feature might be ideal for patients who frequently stop and start breathing throughout the night. Since both devices promote similar features, you can select the machine that fits your lifestyle and budget best.
How Does Luna II Compare to the Philips DreamStation Auto?
Because of the unexpected recall of Philips Respironics machines, you might be looking for a replacement option for your DreamStation Auto. You should consult your doctor if you need a machine change at this time.
If you're advised to purchase another device, the most important differences between the Luna II Auto and the DreamStation Auto include:
Luna II Auto
No battery option
Includes mask leak detection
Extended ramp time of 60-minutes
The design includes a hose connection on the side of the machine
DreamStation Auto
No mask leak detection
45-minute ramp time
The design includes a hose connection on top of the machine
Shop for Your CPAP Machine with GoCPAP.com
GoCPAP.com is a growing company that supplies quality CPAP equipment and accessories to patients across the country. Our team is always available to help you find the items you need to ensure an effective and safe treatment.
Shop here for your equipment needs.