Aug 23rd 2023
Is the ResMed AirSense 11 Right for You?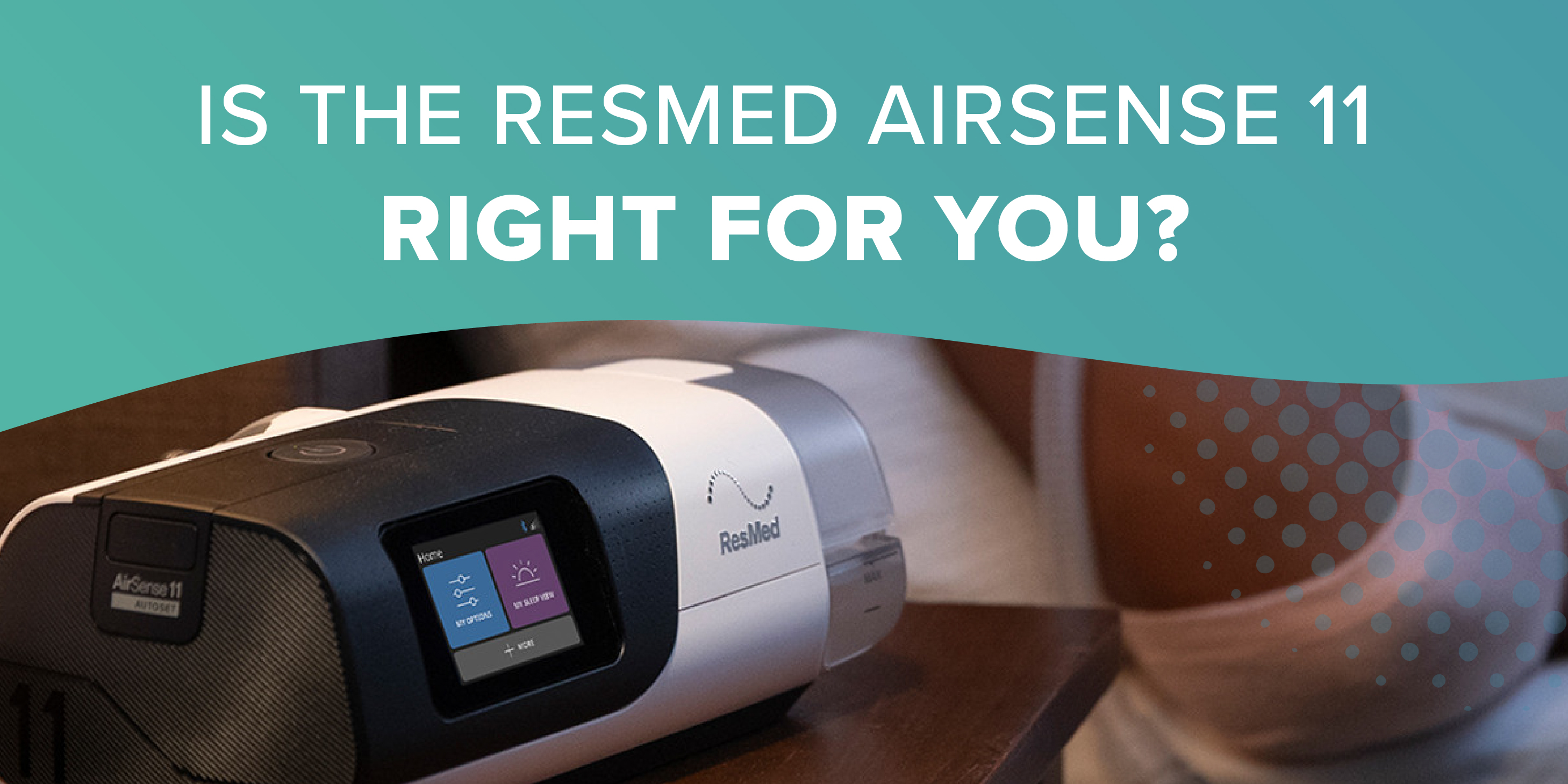 If you're a sleep apnea patient, finding the right treatment device can seem challenging. One of the most popular machines on the market is the ResMed AirSense 11, which promises to revolutionize sleep apnea therapy.
Is it the right choice for you? In this blog post, we'll take a closer look at the ResMed AirSense 11, its features and benefits, and whether it might be a good fit for your needs.
Understanding Sleep Apnea
Sleep apnea is a sleep disorder characterized by repeated interruptions in breathing during sleep. These interruptions can lead to poor sleep quality, excessive daytime sleepiness, and in severe cases, increased risk of heart disease, stroke, or other health problems.
Proper treatment for sleep apnea is crucial to managing these risks and improving overall quality of life. With so many different options for CPAP machines, equipment, and supplies, it can feel like a daunting task to find the right device for you.
The ResMed AirSense 11: Features and Benefits
The ResMed AirSense 11 is an advanced CPAP (continuous positive airway pressure) machine that helps people with sleep apnea breathe more easily while they're sleeping. It comes with a host of key features that set it apart from other devices on the market:
Intuitive User Interface
The device comes with a color LCD screen with easy-to-navigate menus that make it simple to adjust your therapy settings.
AutoRamp Technology
This feature allows the machine to automatically adjust air pressure as you fall asleep, ensuring comfortable breathing throughout the night.
Wireless Connectivity
The built-in wireless capability allows for remote monitoring and adjustment of settings by healthcare providers, ensuring the most effective therapy.
The AirSense 11 works by delivering a constant stream of pressurized air through a mask worn over the nose or mouth. This keeps the airways open and prevents apneas (pauses in breathing) from occurring.
Is the ResMed AirSense 11 Right for You?
While everyone's experience with sleep apnea is different, certain individuals may benefit more from using the ResMed AirSense 11. These include people who:
Have been diagnosed with moderate to severe obstructive sleep apnea
Have difficulty tolerating standard CPAP machines
Are tech-savvy and appreciate being able to monitor their own treatment progress through an app
Many AirSense 11 users say they like the machine's ease of use, quiet operation, and efficient automatic pressure adjustment features. It's also compact and portable, making it easy to take with you when you're traveling.
How to Get the Most Out of Your AirSense 11
To maximize your therapy effectiveness with the ResMed AirSense 11, here are some tips:
Regular Cleaning
Keeping your device clean will ensure it operates optimally, lasts longer, and prevents bacteria from building up.
Proper Mask Fitting
You want your mask to fit properly and comfortably to prevent leaks and ensure a healthy night's sleep.
Parts Replacement
Some parts, such as the mask, hose, and filters, need to be replaced on a regular basis. GoCPAP.com makes ordering — and re-ordering — a breeze.
Get Your AirSense 11 from GoCPAP.com
The ResMed AirSense 11 offers many benefits for sleep apnea patients looking for an effective treatment option. Its advanced features, such as AutoRamp and built-in humidifier, make it stand out from other CPAP machines. Discuss with your healthcare provider before deciding whether this device is suitable for your specific needs.
At GoCPAP.com, we make it easy to purchase the AirSense 11 — along with a host of other CPAP equipment and supplies. You can trust the experts at GoCPAP.com for all your sleep therapy needs. We're committed to helping you achieve better quality sleep and improved health.