Jun 17th 2021
How to Travel with a CPAP Machine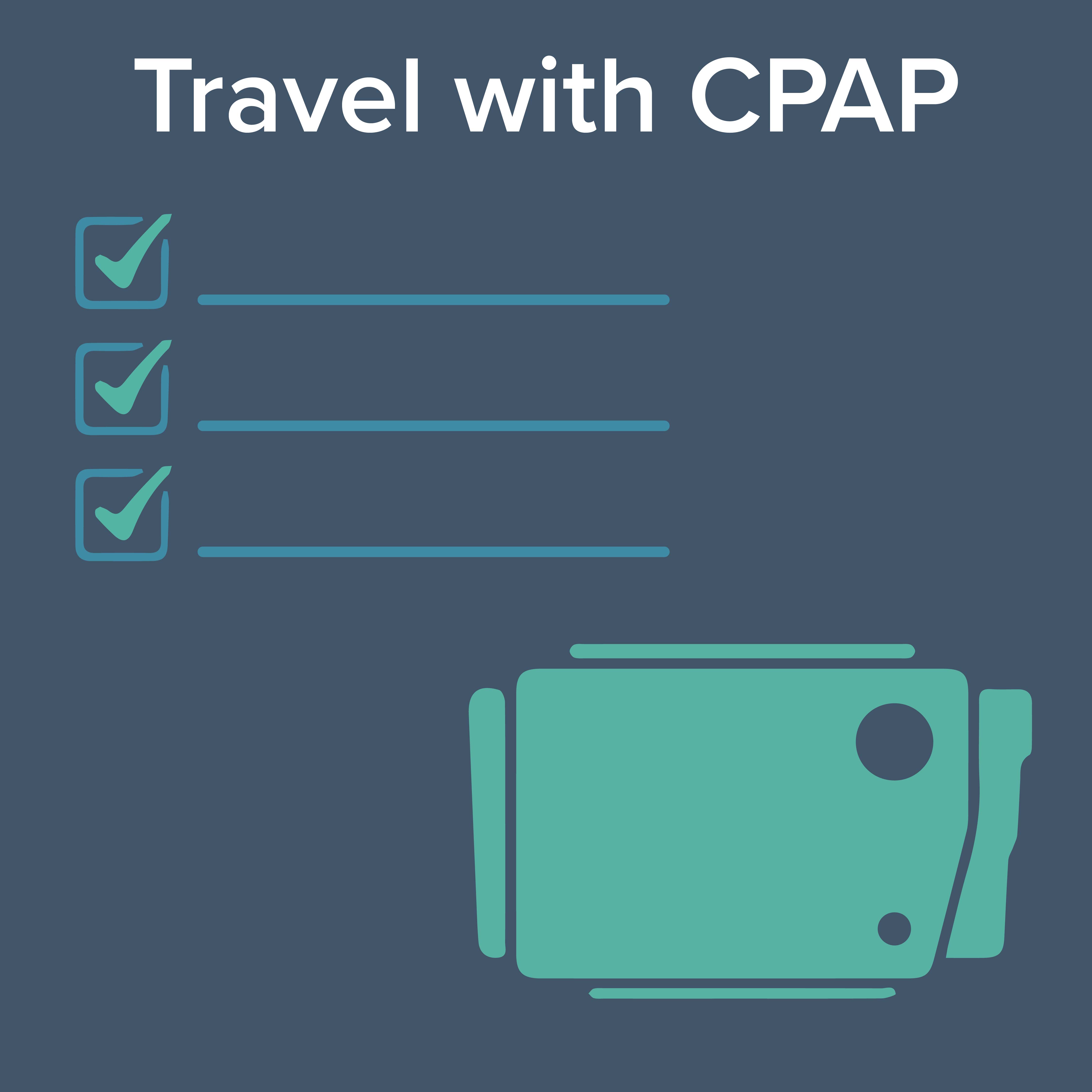 Whether you are traveling for the summer or planning a business trip, make sure to bring your CPAP machine to maintain your sleep therapy. If you've never traveled with your machine before, you might not realize how much you need to pack.
Continue reading to learn helpful tips on how to travel with a CPAP machine, download your printable checklist, and compare the best travel-sized machines on the market.
CPAP Travel Checklist
Whether you are traveling locally, flying, or camping – this checklist will provide the best tips for traveling with a CPAP machine. It will make sure you have everything you need for your sleep therapy.
Make sure to include the following items on your next trip.
CPAP machine
Mask with headgear and cushions
Tubing
Filters
Travel case
Humidifier (depending on your trip's destination, you might be comfortable without it)
Distilled water for your humidifier (preorder water, pack it, or buy it once you arrive at the destination)
Power cords
12-foot extension cord (in case no outlets are near the bed)
Universal adapter (if traveling internationally)
Battery pack
CPAP prescription or Letter of Medical Necessity (if flying)
Additional Reminders
Hotel Tip – Ensure there is a spot near the bed for you to place your CPAP machine. If not, ask the hotel for a small table in your room.
Humidifier Packing Tip – Make sure to drain the water and let the humidifier completely dry before packing it.
Pack Backup Supplies – Make sure to pack backups for any CPAP supplies in case anything becomes lost or damaged (i.e., extra mask cushions, filters, tubing, etc.).
Camping Tip – Make sure to keep your humidifier chamber below your head level. This prevents water from drifting into the tubing.
Examine the CPAP Device and Equipment – Check all your CPAP equipment and ensure everything is in working order. If any items look worn out, consider replacing them before your trip.
How to Travel Abroad with a CPAP Machine
When traveling internationally with a CPAP machine, make sure to check with the airline policies on machine use and any potential restrictions.
Air Travel Tips
Here's a list of things to do before traveling abroad with a CPAP machine.
Bring any necessary documentation with you.

CPAP Prescription
Letter of Medical Necessity
FAA Compliance Letter (from the device's manufacturers)

Contact the airline to request a seat next to a power outlet, especially for long flights.
Review the airport's security page regarding medical conditions and CPAP machines.
Pack your CPAP device in a separate case (usually, this isn't considered a carry-on item since it's a medical device).
Add a luggage tag to your CPAP travel case indicating its medical equipment.
Make sure your device is turned off and on airplane mode (if applicable).
Finding the Best Travel CPAP for Your Needs
Some CPAP users prefer to buy a travel-sized CPAP machine to make traveling easier. There are many travel CPAP machines on the market, and the choices can be overwhelming. Here's an article on The 5 Best Travel CPAP Machines for 2021 to help you during your research.
Travel CPAP Machines Comparison
This chart compares 5 popular travel CPAP machines that work well for camping, air travel, and international travel.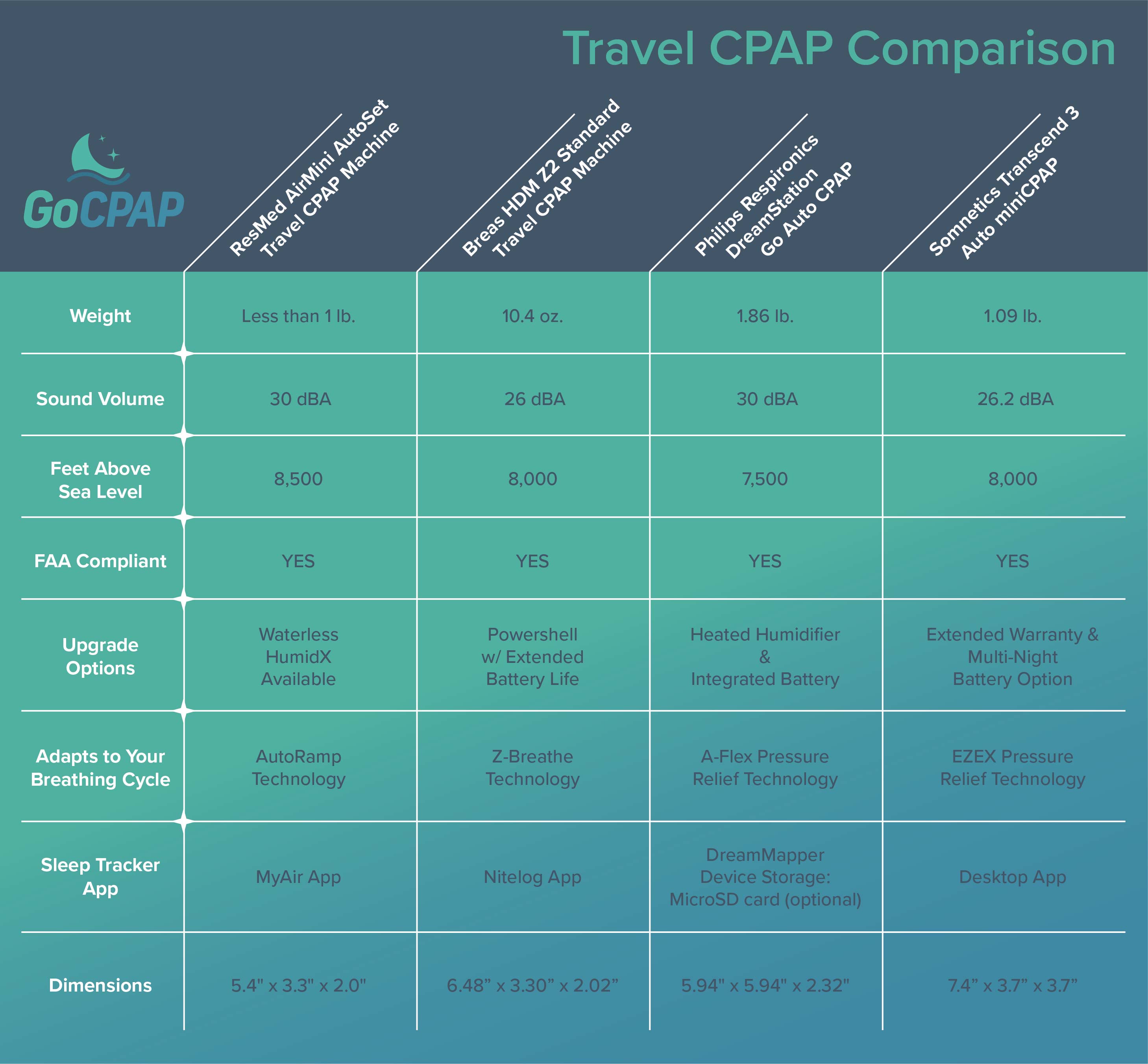 Breath Easy by Shopping with GoCPAP.com
As a reliable and trusted supplier for CPAP items, the GoCPAP.com team will help you find all the products and accessories you need for your next trip!
Shop here for your equipment needs.