Jun 17th 2022
How to Pack a CPAP Machine for Air Travel
Traveling can be rough on your possessions. Even the most careful and frequent travelers can run into problems with lost or damaged items. And when it comes to flying with vital and valuable equipment like CPAP devices, it's essential to know how to keep your machine safe and secure.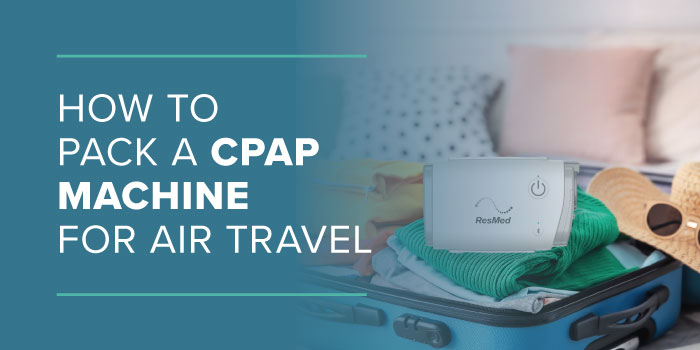 Here are a few helpful tips for packing and traveling with your CPAP machine. You'll enjoy the peace of mind that comes with knowing the best practices for keeping your equipment safe.
How to Pack a CPAP Machine in a Carry-on
When traveling with your CPAP machine, you can pack the device either in your carry-on or in its own carrying case. We recommend placing the device in the center of your bag, protected on all sides by clothing, towels, or other soft items.
The Federal Aviation Administration (FAA) doesn't allow airlines to count CPAP machines as carry-ons, so if it's packed in its own case you can bring it in addition to your regular carry-on. If you plan on using your CPAP machine during the flight, be sure to keep your bag or device nearby and accessible to your seat.
You should pack your CPAP cleaning supplies, as well, especially if your trip will last more than a couple of days. The machines should be cleaned daily, so be prepared to keep your device in good shape while you're on the road.
Check out our Travel Cases Here
Should You Pack a CPAP Machine in Checked Baggage?
We strongly recommend not packing your CPAP device in your checked bags. The risk for loss or damage increases significantly with luggage that takes the rough-and-tumble journey through the airport loading and unloading process.
CPAP Machine Travel Models
If you've already purchased a travel-ready CPAP machine, you've done yourself a huge favor. Travel models are designed for durability and easy transportation. However, even the most heavy-duty devices can be subject to accidents.
Many CPAP models come with special carrying cases made with either a hard plastic or fabric shell. Some cases are designed to fit the machine itself, while others include space for parts and supplies.
If you travel somewhat regularly, you may benefit from the extra sturdiness and features that come with CPAP machine travel models.
Be sure to check out the travel models of CPAP machines offered by GoCPAP.com.
Additional CPAP Machine Travel Tips
Airline Policies
While the FAA allows CPAP machines to be carried on and used on planes, specific airline policies can vary. Some companies such as United and American ask to be notified at least 48 hours in advance if you plan to use the device during the flight, while others simply follow FAA guidelines. Some airlines may have battery requirements or other policies, so be sure to check with your airline at least a few days in advance.
TSA Screening
Any regular traveler knows that their security screening experience can vary from airport to airport or even from day to day. Placing a medical identification luggage tag on your case will alert TSA personnel to the presence of your equipment, making the screening process slightly faster.
Be prepared to remove your CPAP machine from your carrying case or luggage during the X-ray screening if a TSA officer requests it. Airports can be rather germy, so if you're asked to remove your device and place it in a bin, you can request a plastic bag to place your device in for safe handling.
Distilled Water
You should always use distilled water to clean your CPAP machine or in your heated humidifier. The airlines allow only up to 3.4 ounces of liquid per container, so we recommend bringing one or more sealed bottles of distilled water with you since it can sometimes be difficult to find while traveling.
Shop for the Best Travel CPAP Machines From GoCPAP
Don't risk sacrificing your sleep apnea therapy during your travels. GoCPAP.com provides you with all your CPAP needs, including vacation necessities.
Shop now for all your travel CPAP needs.