Aug 30th 2023
How to Choose the Right Travel CPAP Machine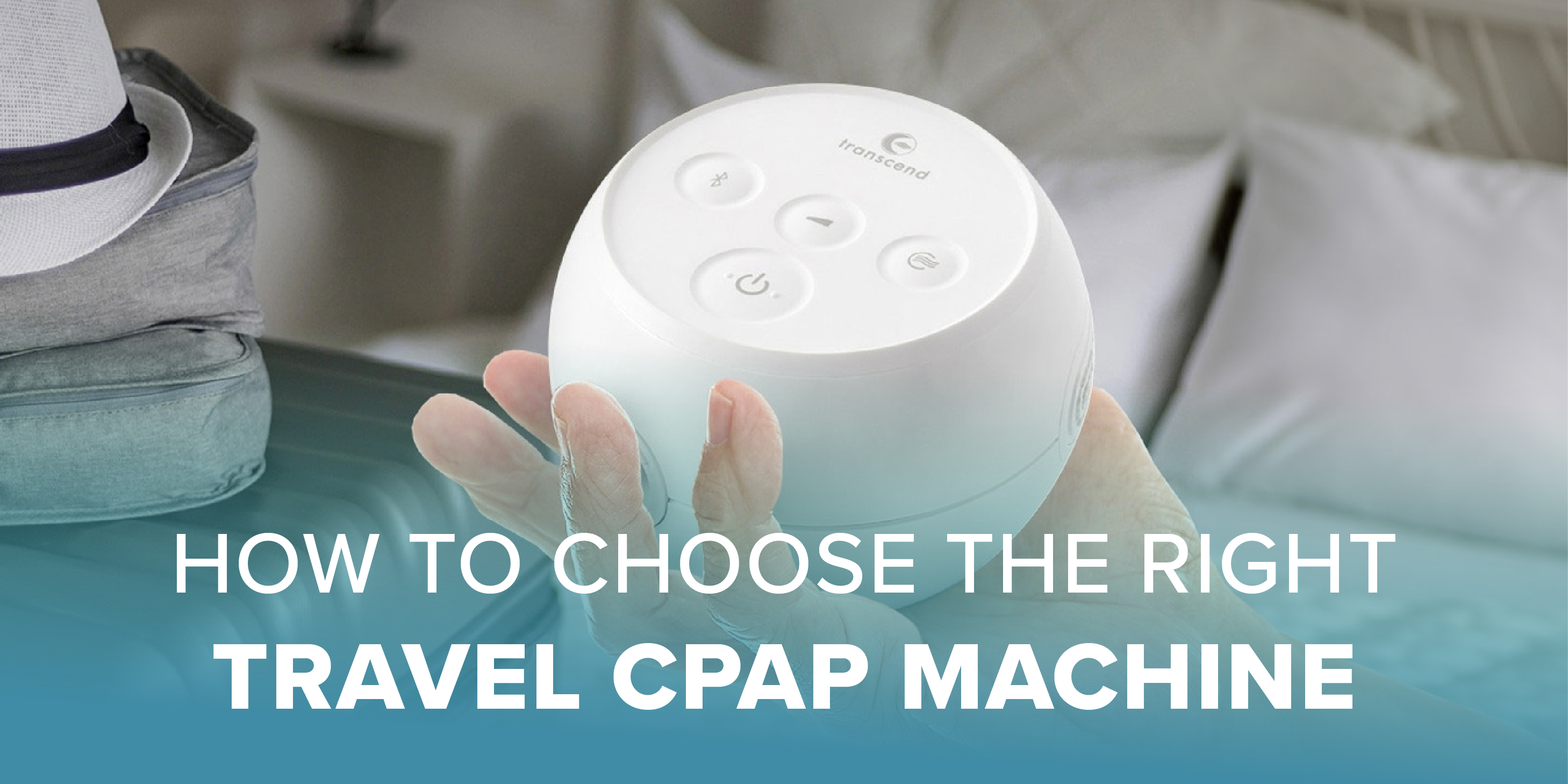 Sleep apnea patients know how life-changing using a CPAP machine can be. Many, if not most, can't have a good night's sleep without one. So when the time comes to travel, taking your CPAP therapy with you is critical for their health and well-being.
With so many travel CPAP machine options available, it's important to do your research and find the right one for your needs and preferences.
In this blog post, we'll walk you through the basics of CPAP machines, factors to consider when choosing one, and tips for traveling with one.
Understanding CPAP Machines
A CPAP machine is a medical device used in the treatment of sleep apnea, a disorder characterized by interrupted breathing during sleep. The machine works by delivering a steady stream of pressurized air into the patient's respiratory tract, which prevents the airway from collapsing and allows for uninterrupted breathing, ensuring a restful night's sleep.
For individuals diagnosed with sleep apnea, these machines are vital for managing their condition and improving their overall health and quality of life.
The Need for a Travel CPAP Machine
Traveling with a regular CPAP machine can be a hassle due to its size and weight. Many standard machines require a constant power supply all night long, which may not always be available when you are on the move.
This is where a travel CPAP machine comes in handy. These compact devices are easy to carry around, making them perfect for travelers. They offer the same functionality as regular machines but in a smaller, more portable design.
Factors to Consider When Choosing a Travel CPAP Machine
When it comes to selecting the right travel CPAP machine, here are some crucial factors to keep in mind:
Size and Weight
The main advantage of travel machines is their portability. Look for a machine that is compact and lightweight for easy transportation.
Power Options
Consider machines with long battery life or alternative power sources like a car adapter or solar charger. We have an assortment of power solutions on our website.
Noise Level
A quiet machine will ensure your comfort and won't disturb others if you're sharing a lodging space. (Any machine is probably less noisy than a person's snoring!)
Humidification
If your CPAP therapy requires humidification, you'll want a travel solution that provides it. Anyone who's traveled with their standard CPAP machine knows that finding distilled water on the road can be challenging. Fortunately, travel CPAP machines come with a waterless humidification option (purchased separately) that attaches to the tube and captures heat and moisture as you breathe. You can shop for waterless humidifier supplies at GoCPAP.com.
Pressure Range
Ensure that the machine meets your prescribed pressure and can be adjusted as needed. Your doctor or sleep specialist should be able to tell you if any particular travel CPAP machine is compatible with your medical needs.
Ease of Use
A user-friendly interface and easy setup are essential, especially when you're away from home. Many CPAP machine models require an Internet connection (usually WiFi) to send your data to your doctor, so keep that in mind if that's important to you.
Price
While you want to find a device that offers all the features you need, also consider your budget. Balance the cost with the features and benefits of each model. If you travel frequently, the cost may well be worth it. We have several travel machines on sale to help with your budget.
Top Travel CPAP Machines on the Market
There are several highly-rated travel CPAP machines available on the market today. Some of the most popular machines include the ResMed AirMini AutoSet, Breas Z2 Auto Travel CPAP, and Somnetics Transcend Micro Auto CPAP.
Here's a glance at each of the top machines and how they compare with each other:
| | | | |
| --- | --- | --- | --- |
| Brand | ResMed AirMini AutoSet | Breas Z2 Auto Travel | Somnetics Transcend Micro |
| Dimensions | 5.4" x 3.3" x 2.0" | 6.3″ x 3.5″ x 2″ | 3.6" x 3.6" x 2.4" |
| Weight | 10.56 oz | 7.9 oz | 7.68 oz |
| Noise Level | 30 dBA | 26 dBA | 27 dBA |
| Power | AC; compatible with various portable battery packs | AC (auto-switching for international); compatible with PowerShell™ battery pack | AC; optional Transcend PowerAway P8 Battery |
| Tube Length | 6'2" | 4' slim-style | 6' |
| Bluetooth | Yes | Yes | Yes |
| Humidification | HumidX Humidifier Filters | Heat Moisture Exchanger (HME) | AirMist HME kit |
Each has its unique features, pros, and cons, and price points. Be sure to research each option thoroughly before making your decision. Just as with regular sleep therapy equipment, travel CPAP machines require a prescription from your doctor.
Tips for Traveling With a CPAP Machine
Once you've chosen your ideal travel CPAP machine, remember these tips for seamless travel:
Proper and Storage
Protect your machine damage by packing it securely in a case. GoCPAP.com has several travel case options available.
Handling Airport Security
Keep your prescription handy as you may need to show it at airport security. Some TSA agents may ask you to remove it from your luggage before x-ray scanning.
Adjusting to Different Time Zones
If you're traveling across different time zones, remember to adjust your machine's internal clock accordingly.
Power to the CPAP
Carry additional battery packs or alternative power options to handle unexpected power outages. Keep in mind, too, that some foreign countries have different voltage requirements as well as unique plug configurations, possibly rendering your U.S.-sourced CPAP equipment unusable without the proper adapters. Check out our power solutions.
Get Your Travel CPAP Machine from GoCPAP.com
Choosing the right travel CPAP machine doesn't have to be difficult. At GoCPAP, we offer a variety of top-quality machines from reputable manufacturers. We make finding the right equipment simple with our vast selection and knowledgeable staff ready to assist you.

Visit GoCPAP.com today to find the perfect travel CPAP for your needs. Let us help ensure your sleep apnea therapy goes with you wherever you are.