Apr 6th 2022
How Often Should I Replace My ResMed CPAP Mask?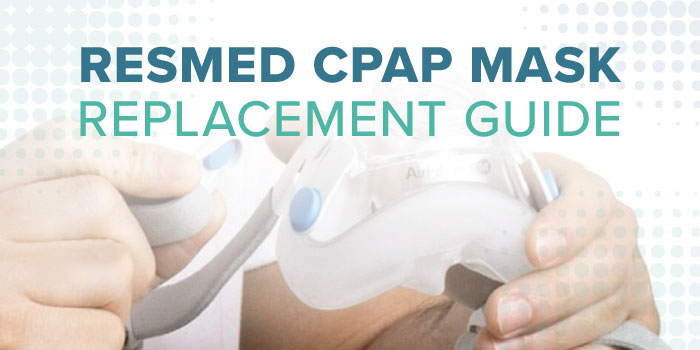 Like all medical equipment, maintaining proper hygiene and maintenance is essential. Knowing when to regularly replace the different parts of your mask is critical to a successful healthy routine when it comes to your CPAP machine. This article will educate you on how often you should replace your ResMed CPAP mask.
Make sure to check what replacement parts your insurance company does and doesn't cover. You can also pay for replacement parts out of pocket.
Why You Should Replace Your Mask Regularly
Our pores build up with dirt, oil, and bacteria despite regular face washing. These particles collect on the mask, which inevitably return to your face; unless you replace your CPAP mask regularly. In addition, these particles may aid in breaking the seal and cause it to smell bad.
Schedule of How Often You Should Replace Your ResMed CPAP Mask
It is important to create a replacement schedule to maintain consistently effective sleep apnea therapy. Read below to learn how frequently you should be replacing your CPAP equipment.
Mask Cushions and/or Nasal Pillows
Your mask cushions and nasal pillows need to be replaced monthly. These pieces have the most contact with your face, which is why they require the most frequent replacements.
Mask Frame
Your CPAP mask frame connects your mask cushion to your headgear. You should replace your ResMed CPAP mask frame every three months.
Mask Headgear and Chin Strap (if applicable)
Your CPAP mask headgear is typically made of soft and flexible materials. Because of this, it can stretch out over time, requiring replacement. Your ResMed CPAP mask headgear should be replaced every six months.
Signs Your ResMed CPAP Mask Needs to be Replaced
Although following the above time frames is the best practice, you may sometimes encounter signs that your ResMed CPAP mask needs replacing.
Faulty seal
Cracking parts
Poor fitting
Regular wear and tear
If any of these things were to occur, you should order replacement parts to ensure quality and complete sleep apnea treatment.
Benefits of Replacing Your ResMed CPAP Mask
Improved Seal: New parts create a clean and complete seal eliminating mask leaks.
Healthier Skin: New parts ensure fresh and clean surfaces touch your face.
Increased Comfort: New parts improves comfort while sleeping with the mask on
Revamped CPAP Therapy: New parts will guarantee the most effective sleep therapy treatment with a better seal.
Get the Most Life Out of Your Mask
Before putting your mask on, wash your face thoroughly without using any face creams. This will keep excess oils, bacteria, or dirt off the mask itself. Next, wipe the mask with a damp cloth to remove any facial oils left behind in the morning. Regular washing of the mask is also vital; you should maintain a weekly washing schedule.
Cleaning Your CPAP Mask
Replacement parts are vital to effective sleep therapy. But, sometimes, cleaning can do the trick to get a better seal. Further, the more consistently you clean your CPAP mask, the longer the part will last.
Using mild soap and warm water, wash the three parts, cushion, frame, and headgear, separately in a sink or tub, avoiding any strong soaps or detergents. Let the parts air dry out of direct sunlight.
Do You Know How to Get the Most Out of Your ResMed CPAP Mask?
Staying stocked up on your supplies will help you maintain an effective and healthy sleep apnea treatment.
Explore our CPAP machine options here. Explore our mask options here. Explore our supplies here.
Shop here for your equipment needs.