Nov 18th 2022
CPAP Machine Troubleshooting Tips and Tricks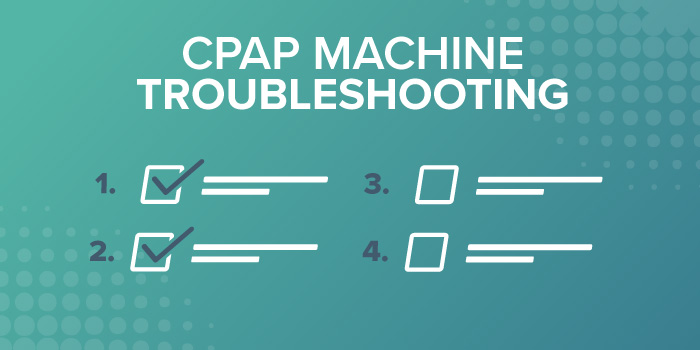 CPAP machines are an important treatment for sleep apnea, but they can sometimes be finicky. There are a few common issues that can arise with CPAP machines, and knowing how to fix them can save you a lot of hassle (and possibly money).
CPAP machines are computer-operated devices with multiple parts and accessories, so when something isn't working properly it can have a significant impact on your ability to get adequate therapy. Troubleshooting your CPAP machine is an important part of maintaining your sleep apnea treatment.
Please note: If you're having trouble with your CPAP machine that you can't resolve on your own, we recommend you reach out to your doctor or a certified technician for help.
Tips and Tricks for CPAP Machine Troubleshooting
Most of the issues that arise with CPAP machine operation have been experienced by a fair number of CPAP patients. The few rare exceptions usually need to be handled by an expert, but you can save yourself time and money by trying these steps first.
Check the Power
This may seem rather basic, but this is the most common reason for patient complaints about their CPAP machine not working. Always make sure that the power supply is plugged in and working before starting to troubleshoot any issues with your CPAP machine.
Check for Leaks
If there are any leaks in the tubing or mask, this can cause the machine to work less efficiently and may even damage it over time. Make sure to check these areas regularly.
Check Air Pressure
Adjusting the air pressure on your CPAP machine can sometimes fix issues with breathing levels. You must consult with your doctor or a sleep specialist if you're still having trouble using your machine.
Parts Replacement
All parts of a CPAP machine (including the device itself) need to be replaced over time. Older, worn-out parts can also affect the effectiveness of your CPAP therapy. Here's how often you should expect to replace the various parts of your machine (from most frequently replaced to least frequent):
CPAP Filters — Replace every 2 weeks
Mask Cushions, Nasal — Replace nasal cushions/pillows every 2 weeks
Mask Cushions, Full-Face — Replace full-face cushions every month
Mask — Replace every 3 months
Tubing — Replace every 3 months
Headgear/Chin Strap — Replace every 6 months
Humidifier Chamber — Replace every 6 months
CPAP Machine — Replace every 3 to 7 years
Still Having Trouble?
If you're still having problems after trying all of these tips, it might be a good idea to consult with a doctor or sleep specialist about what could be causing the issue. There's always hope for resolving difficulties.
Where to Find CPAP Machine Replacement Parts
Many CPAP machine replacement parts can be found online at GoCPAP.com. We offer a wide selection of devices, supplies, and accessories for all the major CPAP makes and models.
Remember that it's important to match the right CPAP machine replacement part for your specific machine model. For example, not all tubes fit all masks, sometimes even within the same brand. Always double-check that the parts you're buying match the CPAP machine you're currently using.
The most common CPAP machine replacement parts are filters, tubing, and masks. If you cannot find the specific replacement part you need, contact the team at GoCPAP.com or the original manufacturer for assistance.
If you have questions about CPAP machines, be sure to contact us! We have answers and can guide you through the devices that are currently available.
Shop now for all your CPAP supply needs.