Apr 26th 2022
Comparing Types of ResMed CPAP Masks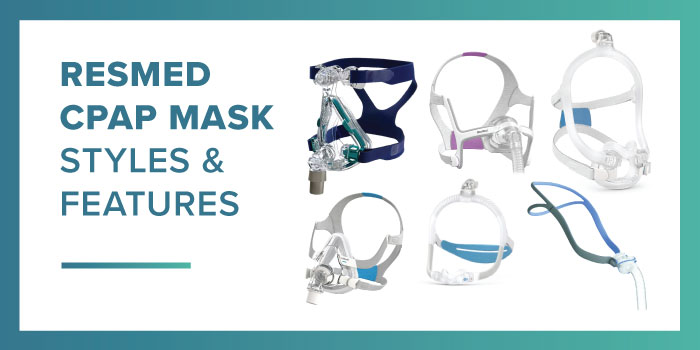 ResMed CPAP masks come in many different fittings, including full face masks that seal around both the nose and mouth, nasal masks that only surround the nose, and "For Her" fittings for smaller, feminine faces.
With a wide array of styles, ResMed has made the perfect fit for every sleep apnea patient. Whether you're looking for a minimal design or an ultrasoft mask, ResMed will guarantee you long hours of comfortable and effortless sleep, whichever style you choose.
Explore different types of ResMed CPAP masks below.
Full Face ResMed CPAP Masks
Full face masks are optimal for anyone who breathes through their mouth or uses high-pressure CPAP or Bi-level machines. ResMed's most popular full face mask styles include the AirFit, Mirage Quattro, and Air Touch series.
The AirFit F30i is designed to deliver positive airway pressure while you sleep. As ResMed's newest mask released, the AirFit F30i features a top-of-the-head tubing solution, a quick-release elbow, and ultra-compact full-face cushions.
Unrestricted movement – A 360-degree, top-of-the-head swivel allows for the ability to move comfortably in your sleep no matter your sleeping position.
Open view – With the swivel attached on top of your head, you can put on your mask before bed while watching TV or reading a book.
Easy removal – The quick-release elbow helps you get in and out of bed without the hassle.
Minor red marks – Designed with fewer contact points, red marks, and skin irritation are reduced with minimal silicone-to-skin touch.
Known for its cushion seal and comfort, the Mirage Quattro provides comfortable sleep with 24 position options for different users. Sleek and light, the Mirage Quattro helps users breathe naturally. This full-face CPAP mask is ideal for users with CPAP pressures above 12 cm/H2O and users on bi-level.
Dual-wall cushion – Spring air technology provides a perfect mask seal and is effective for jaw drop and sleep movement.
Adjustment options – A micro-fit dial gives you the ability to manage the pressure on your face with easy forehead adjustments to fit your specific head shape.
Cushion sizes – It includes four sizing options, you can ensure a precise cushion fit to prevent leaking air, providing a quiet performance.
The AirTouch F20 is known for its ultrasoft touch. Its memory foam cushion fits the unique contours of your face, creating a secure seal. In addition, the memory foam ensures easier breathing and lightness to aid in comfortable sleep.
UltraSoft Memory Foam Cushion – Soft and light on the face, this cushion provides a seal that ensures breathability.
Flexible frame – With added softness, this frame sits beneath the eyes and adjusts to the shape of each user's face.
Undisturbed sleep – With its diffused venting system, the AirTouch disperses air evenly, ensuring a quiet night of sleep.
Quick-release elbow – This elbow makes it easy to disconnect your face mask at night if you need to go to the bathroom or grab a late-night snack.
Interchangeable cushions – The AirTouch F20's cushion is also interchangeable with the AirFit F20's silicone cushion.
Nasal ResMed CPAP Masks
RedMed's nasal CPAP masks are specially designed only to cover the nose. ResMed makes nasal pillow CPAP masks to provide a more lightweight feel during your sleep apnea therapy. ResMed's nasal pillow masks seal inside or around the nostril with a small silicone or gel cushion.
A unique mix between a nasal mask and pillow, the AirFit N30i offers a noninvasive seal that does not insert into the nostrils. Using minimal parts, this mask provides a lightweight feel so that you'll forget it's even there.
Sleep in any position – With the top-of-the-head tube design, you are unrestricted in your sleeping positions with the tubing out of sight.
Nasal cushion – Sealing around the nostril instead of inside, this cushion provides a more comfortable and less intrusive seal.
SpringFit frame – This stable frame creates a personalized fit shaped to your face.
Minimal parts – With minimal parts getting in your way, you will have a clear line of sight before bed reading or watching TV.
The AirFit N20 is a simple to use and comfortable option for those looking for a sleek, soft, and adaptive design. Whether you move in your sleep a lot or you regularly go to the bathroom in the middle of the night, this mask is ideal for the active sleeper.
Easy to attach and detach – With its quick-release elbow, the AirFit N20 is conveniently easy to remove when you need to get up during the night .
Increased flexibility and user movement – The Integrated Flexi-Tube enables active sleepers to move in their sleep without compromising a secure seal.
Relieves pressure and provides support – The InfinitySeal Cushion feels natural on the skin with its frosted surface while maintaining a secure seal.
For Her Option – With a for her option, women with more petite faces can still take advantage of all the benefits the AirFit N20 provides.
The AirTouch provides a solution to patients with skin irritation or silicone allergies. Its UltraSoft memory foam cushion has minimal contact points, adapts to your face, and has a breathable feel.
UltraSoft memory foam cushion – This cushion comes in three lightweight sizes to ensure a perfect fit.
Padded frame – The AirTouch N20's frame is padded to eliminate irritation and flexible to adapt to your face and movements while sleeping.
A clear field of vision – You're still able to read and watch TV in bed with the AirTouch N20's undisrupted sight.
Easy to remove – With its quick-release elbow and magnetic clips, you can remove your mask and headgear without losing their shape when you need to move in the middle of the night.
Flexible tube – The short, flexible tube allows for free movement at night, eliminating tube drag.
Nasal Pillow ResMed CPAP Masks
Nasal pillow masks are a unique option because instead of sealing around the entire nose, they form a seal inside the nostril. Nasal pillows are inserted into the tip of the nostril creating a secure, unintrusive seal.
The AirFit P10 is one of ResMed's top selling masks overall. It's one of the most unobtrusive and undisturbing mask options at a great price!
Gently and quietly releases air – QuietAir woven-mesh vents provide quiet and undisturbed sleep apnea therapy for both you and your bed partner.
Light, unobtrusive, and discreet – With three parts, this mask will scarcely get in your way. You can watch TV or read a book without disrupted vision.
Accommodates movement – with elastic headgear and a flexible mask, it's easy to move in your sleep without disturbing yourself or your bed partner.
A ResMed CPAP Mask for Every Patient!
Different types of ResMed CPAP masks are designed to find their optimal solution for all patients CPAP therapy who suffer from sleep apnea. Explore more options here and find the mask that fits your needs.
Shop here for your equipment needs.
Visit our deals page for current specials.