Nov 14th 2022
An Update on the Current CPAP Shortage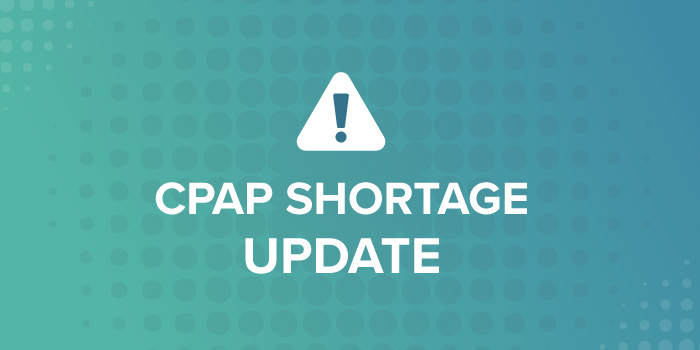 The current CPAP shortage is affecting many users who rely on the machines to sleep. The shortage is due to a combination of increased demand and production issues, which has led to some users struggling to find replacement parts or machines.
As you might expect, this situation is causing a lot of stress and anxiety for those affected, as sleep is already a difficult issue for many people with sleep apnea. However, there are some steps that users can take to try and mitigate the effects of the shortage.
Causes of the CPAP Shortage
The current CPAP shortage is caused by various factors, including increased demand due to the pandemic, production disruptions, shipping logistics, and a major product recall.
In particular, the semiconductor shortage has affected a variety of industries, including medical devices. Some healthcare industry leaders are urging chip manufacturers to place medical devices — including CPAP machines and ventilators — at the top of the chip priority list.
There are some steps that CPAP users can take to deal with the ongoing shortage or prepare for a future shortage, such as:
Making sure your prescription is up-to-date
Contact your insurance company to check coverage levels
Work with your healthcare provider to explore options
Although the current situation is uncertain, it is important to remember that there are many resources available to help CPAP users cope with the shortage. If you are a CPAP user or know someone who is, please share this blog post so that we can spread awareness and help others prepare for the possibility of a continued CPAP shortage.
Tips for Coping with the CPAP Shortage
If you rely on a CPAP machine to sleep, you may be feeling the pinch of the current CPAP machine shortage. Here are some tips for coping with the shortage:
Try to find a used or rental machine from a reputable source
If you must purchase a new machine, be sure to do your research and buy from a reputable seller such as GoCPAP.com
Be prepared for the possibility that your insurance may not cover the cost of a new machine
When Is the CPAP Shortage Expected to End?
Experts expect the current CPAP shortage to last until at least early 2023.
Some manufacturers have been able to increase the production of CPAP machines to meet the demand, but this has not been enough to meet the overall demand. As with any products that depend on the worldwide supply chain, the production of CPAP machines can take several months — or longer — to re-stock the shelves, so to speak.
Patients may be able to find used or rental CPAP machines if they are unable to purchase a new machine. Healthcare providers may be able to help patients find a suitable CPAP machine during the shortage.
Check GoCPAP for Updates on CPAP Availability
While many CPAP machine models are currently on backorder, there are still some makes and models available. Many models of our most popular CPAP machines are currently on backorder, and we can't say for certain when each one will be available for purchase again. It may be a matter of weeks or months.
Our inventory levels change daily, but we do have a few machines available right now, including:
Shop now for all your CPAP supply needs.