Jun 22nd 2020
3 Main Types of CPAP Masks: How to Choose the Right CPAP Mask
3 Main Types of CPAP Masks: How to Choose the Right CPAP Mask
Have you recently been diagnosed with Obstructive Sleep Apnea? Then, you may have already heard of CPAP therapy. For this to work, you need the proper equipment. It can be very overwhelming to choose among the wide range of CPAP masks available in today's market. Read on as we talk more about finding the right CPAP mask for you.
3 Main Types of CPAP Masks
Before choosing a CPAP mask, you must first familiarize yourself with its 3 main types.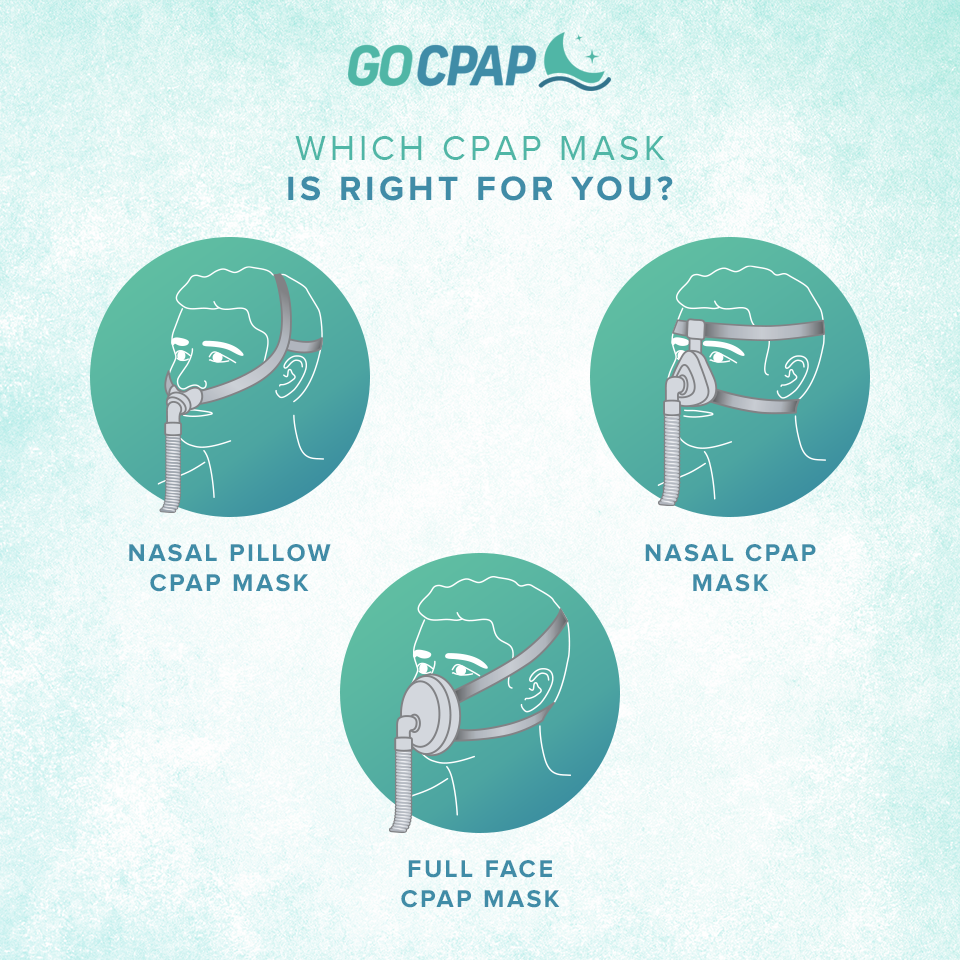 1. Nasal Pillow CPAP Mask
Nasal pillows have these gel cushions that look like earphones. It rests comfortably on the entrance of your nostrils. Nasal pillows are a good option for sleep apnea patients who want masks that have minimal contact on the face. This is also suitable for those who wear glasses or those who like to read or watch the TV before bed.
Try GoCPAP Best-Selling Nasal Pillow CPAP Mask: ResMed Nasal Pillows Mask with Headgear - AirFit P10
2. Nasal CPAP Mask
Sleep apnea patients who require higher air pressure often opt for a nasal CPAP mask. With this mask, the bridge of your nose up to your upper lip area is covered. One of the major differences between a nasal mask and a nasal pillow is that nasal masks deliver the airflow indirectly to your airway. Nevertheless, GoCPAP offers numerous nasal CPAP masks that are both comfortable and lightweight.
Try GoCPAP Best-Selling Nasal CPAP Mask: ResMed Nasal Mask with Headgear Starter Pack - AirFit N30i
As the name suggests, a full face CPAP mask covers all of your nose and mouth. The purpose of this is to create a better seal so that you don't have to worry about any leaks. These full face masks feature a soft gel that adds comfort to the wearer. If you mostly breathe through your mouth, we highly suggest you browse through GoCPAP's wide range of full face CPAP masks.
Try GoCPAP Best-Selling Full Face CPAP Mask: ResMed Full Face Mask with Headgear - AirFit F20
Things to Consider When Choosing a CPAP Mask
What is the size and shape of your face?

How long and wide is your nose?

What is the bone structure of your face?

Do you have any facial hair?

Do you wear dentures?
It all comes down to the mask that best suits your needs. With so many CPAP mask types to choose from, you should never settle on a mask that makes you feel uncomfortable. GoCPAP also offers an array of CPAP mask accessories that can make compliance a lot easier!
Should you run to any problems with your current mask, it is best to address them early. Whether it's the wrong size or if there are leaks, be sure to get in touch with your sleep doctor. You can also contact GoCPAP Customer Support if you have any questions with any of our products.