Sep 28th 2021
​ Latest Update from Philips Respironics' on CPAP Machines
The Philips Respironics CPAP Machines Recall has impacted many of our GoCPAP customers. Our goal is to keep you informed on all updates as they become available. Here is the latest letter from Philips Respironics regarding the recalled CPAP machines.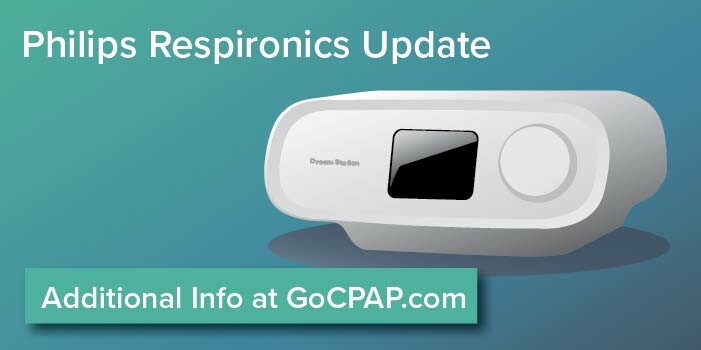 The company expects to repair or replace all defective devices within 12 months. Additional details regarding clinical insights for physician guidance, repair and replace timeline, and increasing machine manufacturing are discussed in the letter.
Since Philips Respironics' announced the recall of the machines in June, the recommendation for users is to STOP using these units immediately. This resulted in a high volume of CPAP machine purchases. At the same time, people that qualified for a replacement through their insurance claimed a replacement and others were able to obtain a loaned machine. This led to a low inventory of CPAP machines across the United States.
For the last few months, GoCPAP has made every effort to have machines available for purchase and we have kept our prices as low as possible. Our goal is to help people that are out of options find a CPAP machine that may be used now as they wait for Philips Respironics' to offer a replacement.
Your Next Steps
While you're waiting for a response regarding the repair or replacement option for your machine, here are some next steps you can take.
1. Register Your Affected Device
This helps verify that it's an active device and active patient. Please visit www.philips.com/src-update or call 1-877-907-7508.
2. Contact Your Insurance Company
Your insurance company may cover the cost of a new machine, contact them to find out. Then you can order your replacement machine and submit a request for reimbursement to cover the out-of-pocket costs (excluding Medicare beneficiaries).
3. Review Machine Replacement Options
Recommended Machine Option: Luna II Auto CPAP Machine with Humidifier
GoCPAP.com recommends the

Luna II Auto CPAP Machine with Humidifier

as a replacement option due to its main features and benefits.

Uses Wi-Fi or Cellular Connection to Share Therapy Data (if Desired)
Crystal Clear LCD Display
Integrated Heated Humidifier
Easy Access to Your Data Using Convenient QR Code
60-Minute Ramp Time
Automatically Adjusting Pressure
Reslex® Expiratory Pressure Relief
Auto Start and Mask Leak Alerts
Your Ongoing Source for Information
Continue to follow our blog or signup for our email newsletter to stay up-to-date on the news regarding the Philips Respironics recall, CPAP machine and supply sales, and more.