Feb 18th 2022
​ AirSense 11 CPAP – New Features & Comparisons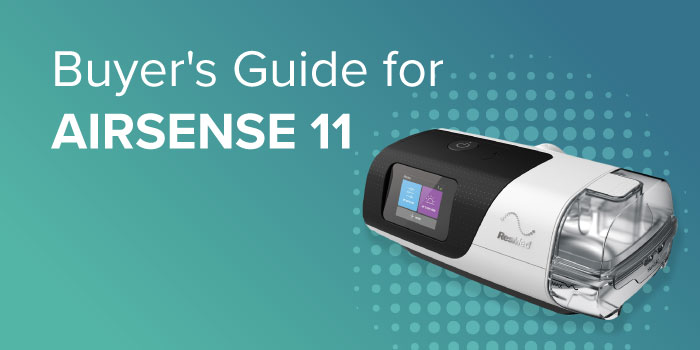 ResMed's newest CPAP machine, the AirSense 11 AutoSet, is a user-friendly machine with a handful of features that will help you quickly adjust to your sleep therapy treatment. Combining their popular algorithms and technology with added features on the AirSense 11, ResMed has created a modern and technologically advanced CPAP machine.
AirSense 11 CPAP Highlighted Features
The AirSense 11 incorporates numerous valuable features that will help make your sleep therapy treatment as effortless as possible.
New Modern Design – includes a simple start and stop button.
Responsive Touch Screen – easy to navigate for users of any age.
Integrated Cellular and Bluetooth Connections – enables secure and automated data transmission.
CareCheck – includes a personal therapy assistant that asks care questions and provides self-support tools.
HumidAir Heated Humidifier – allows you to change settings with the Climate Control option or manually.
Heated or Non-Heated Tubing Option – ClimateLineAir 11 prevents condensation from forming inside the tube.
Removable Water Tub – easy to clean and refill.
Disposable Air Filters – removes environmental particulars from the air.
Air Solutions Sleep Therapy System – the ResMed AirView and myAir App work together to improve therapy compliance.
Remote Upgrades – a significant new feature that ensures your machine has the latest technology updates.
Philips CPAP vs. ResMed CPAP Machines
Before the release of the AirSense 11 AutoSet CPAP machine, the Philips Respironics DreamStation Auto and the Resmed AirSense 10 Autoset were the two most popular CPAP machines on the market. So how does the AirSense 11 AutoSet compare to the Philips CPAP machine?
Sound Levels: The AirSense 11 is even quieter than its previous model, you likely won't notice an increased sound from the DreamStation Auto to the AirSense 11.
Machine Size: Contains a humidifier, the AirSense 11 is slightly larger than the DreamStation Auto.
User App: The AirSense 11 CPAP includes access to the myAir app. So, if you became used to the convenience of sharing your sleep data with your doctor using the Philips DreamMapper app, you can maintain that same convenience with the myAir app.
AirSense 10 vs. AirSense 11 AutoSet
The AirSense 11 Autoset includes many of the favorite features from the AirSense 10 models. In addition, AirSense 11 builds on top of the AirSense 10 models with additional new user benefits to further enhance your sleep apnea sleep therapy!
Similarities of the AirSense 10 and 11
AutoSet For Her options
AirView capability to change and adjust settings remotely
Backed by the power of Air Solutions
myAir app is an easy to use patient support system
AutoRamp with sleep onset detection
CSA, RERA, and CSR detections
Easy-Breathe waveform with EPR
AutoSet Response for comfort
Climate Control with ClimateLineAir
Your doctor can access your sleep data with your permission
Improvements on the AirSense 11
Provides over-the-air software updates
A library of educational videos that includes step-by-step instructions
Access to a personal therapy assistant
Up to 15L/min of oxygen use (previous AirSense 10 models only went up to 4 L/min)
Don't Miss Any Updates with GoCPAP.com
Stay up-to-date and stocked up on all the latest CPAP machines and equipment available through GoCPAP.com. In addition, you can follow our blogs, emails, and social media pages (Facebook, Twitter, Instagram) for the latest sales and new product releases.
Shop here for your equipment needs.